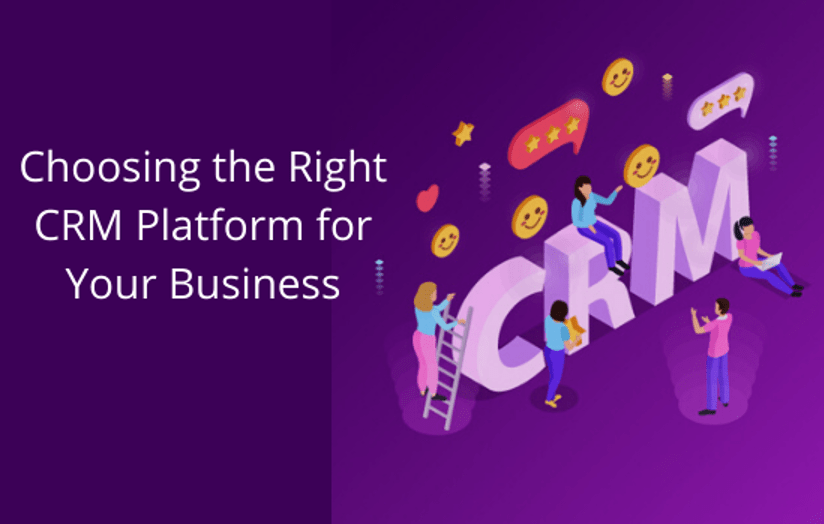 Customer relationships can bring massive success to your business. As a business owner, you already knew that. You also know how important it is to pay crucial attention to the Customer Relationship Management or CRM. To make this task easier, there are several software out in the market that help you establish and enhance your business's CRM system.
But choosing the right software among the many options can seem a daunting task. Don't worry. Here, you will get some important tips and tricks which will help you choose the perfect CRM platform for your business.
Understand your requirements
The first thing while choosing a CRM system is understanding and assessing the exact requirements for your business. The appropriate approach will be to realize what you need the CRM platform to do for your business. You can do this by creating a list of the essential features that you need in the CRM platform. Once you know this set of features, you can match the features of the CRM platforms available in the market with your list. This will not only make your CRM platform more efficient for business but will also save some time.
Integration with marketing
You must choose a CRM platform that will let you integrate itself with marketing. For this, you need to focus on a CRM system that has features to provide you with a view of present customers, previous customers, and each lead.
The integration of this set of data related to customer contacts, demographics, and profit margins, with the existing marketing approaches of your business,  will enable you to make targeted marketing campaigns. An improved marketing approach ensures greater visibility of a business. This will reach you to more and more prospective customers.
HelpDesk features
The Help Desk feature is another important aspect to keep in mind while choosing the right CRM platform. This feature is essential for maintaining customer experience and satisfaction. It also enables you to interact with customers via live chat, chatbots, emails, and even through phone calls.
Social engagement capabilities
While choosing the right CRM platform, you need to find a platform that allows you to track your business or brand interactions in social media. You can check the marketing contents produced by your marketing team through blogs, social media post, through specific tools that come with the CRM platforms.
This will enable you to understand customer behavior better. Moreover, the insights can help you in rewarding brand advocates and endorsers. This will encourage them to expand your brand name and result in further promotions of your business and brand.
Open API
Choosing a CRM platform that has an open API is important for your business as well. An open API will allow you to integrate the other systems and applications that the businesses use for daily operations. This will enable the CRM platform to be compatible with other software that you use. It will help in connecting the third-party applications to itself and work from within.
An open API will also let you sync data from other apps into the CRM platform as well. You can combine your CRM system with email, accounting software, and e-commerce platforms. By choosing a CRM platform with an open API, your business can streamline and leverage a single source of reliable data for decision making, which will increase the efficiency of the process.
Adaptable to business growth
Your business will grow and evolve. Along with this, your needs will also change, keeping up with the expanding business. So it is ideal to choose a CRM platform that will adapt to your business growth. Choose a CRM system that can handle bigger client structures and new users and be flexible with your scaling business across a global atmosphere. This will save you the trouble to change and invest in other CRM platforms in the future.
Easy-to-use
Another critical point that you have to make sure is the user-friendly nature of the CRM platform. Some CRM systems can be massively complex with a steep learning curve. A part of your employees can easily get intimidated with such complex features. Ensure that the CRM platform you are choosing for your business comes with easy-to-use features.
It will ensure workflow and alignment across your teams. This will increase the adoption of the platform. A proper usability factor in your CRM platform will enhance efficiency and work integrity while allowing for a cost-effective solution that your employees use to its utmost potential.
Mobile-friendly
A feature you can look out for in your CRM platform while choosing the right one for your business is flexibility across Android and iOS apps and desktop accessibility. If your business requires your sales team to spend lots of time in the field.Then a CRM platform with mobile accessibility can come to great advantage.
The CRM system's mobile apps can help your employees synchronize important information, calendars, contacts, tasks, events, deals, and analytics from anywhere. The option for product mobility in the CRM platform will also allow your sales team to avail of this information and data from other web-enabled devices. This will make the work of the sales team more effortless. It can also lead to an increased ROI for your business.
Pricing
Pricing is an indispensable part when it comes to buying or subscribing to software or platform. A similar problem exists with CRM platforms. If you have a start-up or a small business. Then the budget for allocating to software can become a huge problem. So it is advisable to choose a CRM platform that comes with all-in-one features and also with some extra ones like customer support and marketing automation.
Also, pay attention to the platform's pricing model, whether it requires monthly payment or up-front yearly payment. Check your budget and understand which model will be more beneficial for your business. Also, look into the hidden costs. Working up your budget and choosing a CRM platform, according to that, will not only save money but also save time.
Support and Training
While choosing a CRM platform for your business, make sure that the provider you choose offers you with after-sales training for set-up and implementation. Some of the CRM platforms can be hard to use when it comes to integrating with other applications.
So it is essential to check that the provider will support you with the required training until you become fully operational. Availing implementation support and training from the provider will save you a lot of trouble setting up the platform by yourself. It will efficiently work out the existing system bugs and establish the best practices required. This will reduce the risk of wrong steps and failures.
Product Demonstration
Besides providing support and training, access to product demonstration is also an important part. You should keep in mind while choosing a CRM platform. Opt for a CRM platform that will give you access to product demonstrations and allow you to use it.
A product demonstration will provide you with a golden chance to try out the platform before committing to it. Through the demonstration, you can glance at what the platform will provide you and how it can enhance your business. You can evaluate the platform's pros and cons. So you must secure a product demonstration period for the CRM platform you are choosing for your business.
Vendor Strengths and weaknesses
Before choosing a CRM platform for your business, do a little bit of research on the platform vendor. The vendor is as important as your platform. Because the strengths and weaknesses of the platform will depend on the strengths and weaknesses of the vendor, study the vendor website. It will help you in understanding their duration of existence in the market of CRM systems.
You will get a brief insight into their financials, availability, specialisation, computing platform, professional services, and partnerships. Also, learn if that particular vendor has experience with companies and industries in your similar field. The types and sizes of the client companies will give you some insight into what to expect from that vendor. You can also study third-party review sites.
The client testimonials, review scores, and references can lead you with enough information about the vendor, and as such, also about the platform. Ideally, you choose a CRM platform from a vendor that is industry-specific and has several positive reviews from companies of your similar area.
A CRM platform is essential for your business's ultimate success – be it a start-up, a small business, or a big one. Hence, you must invest in a good CRM system, which will provide you with a significant increase in productivity and revenue growth.