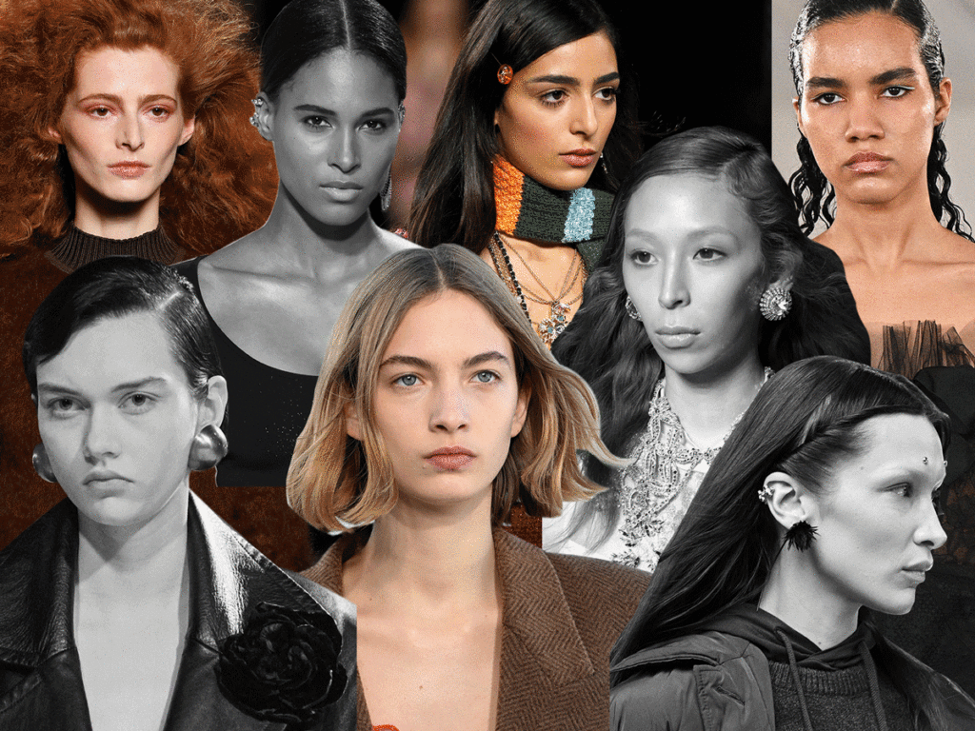 From low maintaining coloring technique to textured layers, here is all you need in hair this year.
How are the new year and new you? Maybe this is a little bit of inspiration to figure out what exactly you want to do. This year, spice up your looks that are easier than you think. Although there are so many biggest hair trends coming out of salons, passing through the runways, and getting spotted in the magazines and on your favorite celebrities' social accounts.
Decide what to wear while working with your textures and color. Of course with a little boldness and drama for a classy look and wavy tendrils, so everybody is astonishing at you. With the plenty of throwbacks ideas from iconic hairstyles that define eras from the 70s to 2000s.
1. Mushroom Brown Hair Color
The inspiration behind the neutral brown shade is going to be everywhere this year. For this year you might find a lot of unexpected things, a mushroom brown. Mushroom brown is the hair color all the brunettes will be asking for, this year.
If one is looking to spice up things, instead of warm caramel hues they must go with this trend. For cooler tones on an ashy base, with traditional hair highlights, or baby lights. You will feel like you are glowing even if you haven't been in the light in a while.
2. The Red Hair
The best thing about red is that there's a shade for every season. Felecia Dosso mentions, "Different shades of copper hair are really popular right now". As we go into different seasons from winter to spring and then summer, we see those shades lightening up differently each time. Instead of being deep red, you'll see strawberry red.
If you'd like to stand out this spring, rusk red is recommended with bold red tones. This is a bit different from the deeper red tones you come across in winter and autumn.
3. Textured layers
Add natural textures to your layers more and more. Focus on the midway down the hair till the end – make sure you do not lose much volume.
It will give great inspiration to your long layered hairstyles. Layered cut that communicates extra volume and textures to all strands midway to the ends. Layered haircuts can opt for any hair type. It is worn by the world's most famous women who created both a slim look and stylish style.
4. Throwback Buns
There's just something about the buns. Tara Simich thinks that 2022 is the year of the bun. Buns are superior to the other hairstyle trends. They are practical and can be worn formally and informally. They keep hair off your face while you prepare food or dance on the floor with friends. Buns are carried sophisticatedly in zoom meetings and messy ones save your fuel in making another hairstyle.
2022 has sought inspiration for the buns from the 2000s which had sleek, spiky buns with a center parting. Then there came featuring a romantic, elegant bun, loose way framing every face perfectly.
Short-hair sisters can also do a half knot bun getting a little help with bobby pins and elastics.
Also Read: How to maintain healthy and beautiful hair
5. 90's Layered Cuts
90's layers are making a strong comeback, said Bashir. A layered hairstyle adds volume, movement and shape. Frame the face so well and corporate with every hair type.
The '90s are back with the vengeance right now. Although '90s trends are so underrated this hairstyle is doing so well among the rising trends.
Layers are an ancient fashion trend which can be short and seamless, medium layers, and long layers. But what we are here talking about is the Rachel cut that astonishingly defines the 90s and its big return.
6. Side Swept Bangs
It is a rewind from 2000's trendiest hairstyles and you got a second chance to do side-swept bangs – this time more correctly. This round is with a more modern twist, upgraded for modern women.
2022 is all about embracing your classic hairstyle that goes with your hair color, cut and styling. Get your bangs to straighten up into oblivion and wear them plastered to your forehead.
7. The Bob
Bobs are about to happen once again, this time with a mid-length cut. It arrived on the scene a few years back. Proko says cuts are a little blunter for extra edge.
You should wear something above the shoulder and below the chin. This could be done to any hair from fine to very thick hair.
8. Fringed Short Curls
Fringe curls give so much life to hair, in means of volume and texture. It especially goes for shortcuts to achieve better styling.
A lot of curly layers and a set of voluminously curled bangs are making you ready to steal the envious look wherever you go.
9. Sharp Shoulder Cut
Mid-length hairstyles are all in rage in 2022. They are mostly effortless and lived-in looks which can be worn with the least care.
This is a 70's inspired shag. The cuts are very edgy, minus all the sharp angles. This style could cut glass with just a single look. Make it classy or lob look, modern or trendy.
The shag combines the other spring trends like textures, layers, and bangs, all in the right ways.
10. Shaggy Shoulder Cut
The edge finish on a shoulder cut with shaggy layers and curtain bangs is ideal for those who are looking for extra volume and texture.
Medium-shag haircuts are popular today. This is also for a woman who wants to look modern and trendy with shag hair. There are no women who do not want to take advantage of this hairstyle knowing the immense potential that stands behind it.
Also Read: Your Hair Needs Love, So Start Taking Care of It
11.Grown Out Crop
This is the most elegant crop cut you've seen all year. Side-swept bangs and flattering layers keep this wearable and long.
If we look into last year's styling where it was mostly embracing your natural hairs, for some kind reasons. You could be the same again with wearing this grown out-crop. It creates a thick texture in very short hair, the choppy bob short
12. The Triangle Cut
Curly-haired girls are often afraid to end up with triangle hair cut but this modern hairstyle is changing the tones. Things are evolving too as hairwise and showing more of your natural textures.
It's been a long journey from artificially giving textures to hair and now accepting your hair as they are.
They go like bobs at the back end on your lower part of the neck, and in the front side, sharp and long corners. This stacked bob haircut is very edgy, daring and sassy, giving a beautiful shape after rounding brushing on it.
Conclusion
All these hairstyle trends are unique in their own way and you are going to look different with them. But having and maintaining these hairs is a lot of work. And it's costly as well, but not when use hair product coupons that will save you good amount of money. Not only this will keep your hairstyle hobby alive, but will be light on your pocket as well.
So get up and try on your favorite hairstyle this year that you have been eyeing on.