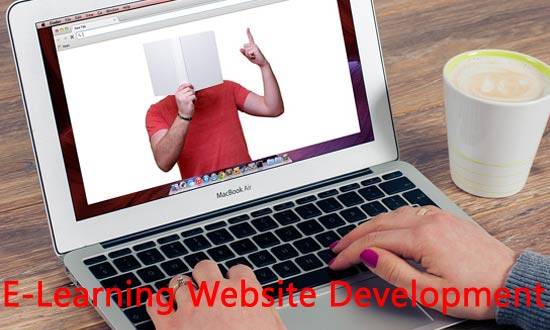 Education is easily one of the most important things we need. Hence, it comes as no surprise that the last decade has seen the unparalleled growth of eLearning websites. These websites are quickly taking over the world, propping up in all corners and places. The traditional classroom model is having to constantly tussle with the new age e-learning methods.
It is a form of education that is popular amongst not just schoolchildren, but also working professionals and people who aspire to pursue higher studies. However, do all e-learning websites get the same attention and love from people? Well, the answer is a definite NO! So, how do you ensure you build a e-learning website that users love and keep coming back to? Top e-Learning web development company in India feel that the best way to have repeat customers is to make sure you have quality content on your e-learning website? But, what is good content that needs to go on your site? Here's a little list of certain types of content that you need to make sure are on your website, so that it survives in the incredibly competitive world of e-learning!
Major Faults You Need to Avoid
Uneasy navigation through the website, making it difficult to access content
Unreliable search engines within the system, which prevents people from exploring the various options on the website
Monotonous web design that leaves the user feeling tired and bored after a while
A non-interactive interface which requires a lot of preempting to react to the user.
A user interface which fails to relate, connect and engage with the audience effectively
Incorrect information and factual errors in the course or lesson being taught
Missing information regarding certain courses due to failure of updation
An extremely rich web design which makes it difficult for the user to take everything in, as it serves as a sensory overload
Too much textual content followed by too little images or videos, which makes it more difficult for the user to retain their focus
Faulty payment portals which are time-consuming and appear to be unsafe to the user.
Important Features to Priorities
1. Online Enrollment
A top e-Learning web development company will know that enrolling students is the first part of the business. Hence, a good e-Learning website will make use of an effective Learning Management System to manage their enrollment. Such a system gives the users a great platform to view the curriculum, contact faculty and access the required course materials.
2. Analytics
The only way to fully get to know your customer in today's online world is to monitor their movement online. Therefore, analytics will help you understand user behaviour and buying history. This, in turn, will help you understand how your users think, and what type of features they want.
For instance, analytics will tell you what sort of courses get the most engagement, what are the most popular features and at what time period more students tend to be online. With this information top e-Learning web development companies can re-adjust their design and marketing to shape the learning environment and the curriculum as per the needs of the users.
3.Payment Portal
With reports of online fraud, phishing and hacking taking the rounds, people are more anxious than ever before regarding online payments. Therefore, it is imperative that a good e-Learning website has a robust and secure payment portal.
By ensuring that the payment process is smooth and easy, the company can rest assured that customers will pay their dues and even keep coming back.
The website must have payment options from all the popular payment methods, and must never lag or take too much time.
4. Evaluation and Feedback
E-Learning websites have to assess their students and give them important feedback regarding their performance, much like classroom tests. Therefore, every course must have frequent exams as a means to gauge the performance of the students. Assessment tests and evaluation must be done at frequent intervals so that course correction, and student improvement may be done before it is too late.
5. Content is King
An eLearning website is only as good as the content it supplies or puts up. The primary need for such a website is as a platform to provide education and information to students. Therefore, even if you have a rich and intuitive interface, a secure payment portal and a great signup system, it won't matter if your content isn't good.
Course material must be frequently evaluated and updated as per new trends. New courses should be offered as and when the need arises and the quality of the content should never dip.
How to Have Good Content?
Build course material using the Storyboarding technique to improve engagement.
Group similar material into logical modules, which help in bettering the overall flow of the course plan.
Make sure every module is short and filled with textual as well as visual content.
Smaller modules help students feel they are making progress faster, inspiring and motivating them to keep going further.
Incorporate interactions, embed videos and take tests once in a while to refresh the user's mind and improve retention.
Optimise all the content to make sure that they load quickly, because slow load times lead to drop in engagement
Types of Content to Add
PPTs- Easy to create, design and understand, PowerPoint presentations are a great way to reach out to students.
Guides- A guide gives more detailed information regarding a topic, and can even contain step-by-step procedures regarding various operations. This can come in handy during technical courses.
Reports- They serve as a great way to introduce people to a topic and much like guides, help in providing concrete information to students. Reports also contain statistics and figures regarding the topic in question.
Infographics- Having too much textual information online can make it difficult for people to pay attention and stay focused. Using infographics can help you get information across without making it look boring.
Webinars- These help in boosting engagement rates and also serve as a great platform to manage queries and doubts from the students' side.
Podcasts- If you do not have the resources to manage a video session, go for a learning podcast that covers various topics.
Interactive games- Look for games which require a basic understanding of the concepts taught to play and incorporate them into the course-plan to boost engagement rates.
How to Build Your Own Website?
Firstly, start by studying your target audience and find out their mean age, what their interests are and how much time they are likely to spend on such a website.
Next, go through the websites of a few competitors to gain knowledge regarding their USPs and what makes them unique.
Study the popular platforms that students use and interact with students to understand what they are looking for. Try to incorporate these ideas and suggestions while building your own website.
Once you're done planning, start looking for someone with a technical background to help build your website for you.
Hire qualified developers and software development vendors to turn your dream into a reality!
Lastly, adjust, redesign and adapt your website as per feedback from trial users and once it is done, launch your dream project!
Xornor Technology is a top e-learning product development company in India with years' worth of experience in the field of web-development. We can help you create the e-Learning website of your dream by helping you every step of the way.
Not only do we help with designing the website, but we can also perform all the maintenance and web development work that comes afterwards. In case you have all the ideas necessary to build a stunning website, come to us at Xornor, to turn your dreams into a reality!