Thin hair is neither a curse nor a flaw. It's as good as any of your feminine attributes. Nonetheless, women with light locks want to be adored and praised, a tendency that calls for some measures. Hair color for thin hair brings quick, less-invasive results.
Not all colors have equal effects. So, you need to find out why color is the way and what suits your hair best.
Why Should You Rely on Hair Color for Thin Hair?
If the idea of coloring hair seems to you as a way to diffuse more appeal, personality, and vibrancy, it's time for out-of-the-box thinking.
Color gives you hair a special coating that adds to the hair texture and plumps its shaft creating more volume to hair roots and there by a thicker appearance plus free-flowing state. It's proven!
However, for the best hair color for thinning hair, you need to look beyond the simple dyeing rules. At least a couple of tones need to be added to your chosen color to enable it to handle the definition, texture, and volume of your hair. Remember that just one tone, even if it's the finest, won't do the trick.
For thin hair to look healthy and thick, a glossy and shiny effect is all you need, and an optical illusion is the key to dealing with your fine, flat hair. The word 'illusion' may sound somehow less than real, but it's not entirely true. Well, that leads our discussion ahead.
How to Make Hair Look Thicker with Color?
Answer: Creating an Optical illusion
Much of contouring your hair, an optical illusion involves the placement of darker shades underneath the haircut surface. The application of the color has to be very precise. More highlights don't essentially give you the better results.
The specific goal of the technique is to bring in a contrast between dark and light colors. The roots of your hair require a tone that is slightly darker than the natural color of your hair. Some strands on your hair surface need to be lightened.
You want to avoid block colors like ebony black though platinum blonde has its uses with a special haircut as discussed later.
Best Hair Color for Thin Hair
By getting an assortment of hues, it's not hard to see what works best for your thinning hair. But, dear friend, it's your hair that deserves only what's good and no less. So, a few choices can be in order.
Bold Brunette
Any shade that's made with matte brunettes or honey-light brown or dark chocolate can be a classic match for your hair, especially because no further damages can be afforded.
Rose Gold
A transitioning blend of blonde, pink, and red may add the much-needed depth and dimension to fine hair. So, that gives you a rose gold hue, and it's nice.
Blond and Brown Combination
When these two colors are combined and applied both horizontally and vertically, they create a dark blond impression in the sun and a light brown look in the absence of sunshine.
However, you're not close to the end of possibilities yet. There're several variations that colors like blonde, brown, and grey can produce to help you achieve admirable looks, and not the deceptive ones.
Some hair stylists have their ingenuity to create numerous shades. However, as long as you want to go blonde, you should stick to any of these three variations.
Nude Blonde
It can be applied in a way that the color remains light on the roots and strong on the shafts. Thus, you can see fuller and healthier strands which should be natural too.
Light Natural Blonde
Aim for a bob cut with a front that is large, bangs that sweep by the side, and layers that keep graduating. Only then, this special hue should create blond locks and cause the roots to grow in slightly to lend a beautiful volume.
Platinum Blonde
It's not a conventional choice, but the key is a bob cut that features heavy back layers and side-swept front bangs. Just apply the color, and your hair will look full and great from any angle.When your eyes are on brown, you can explore at least five distinctive options. Let us explain the potentialities.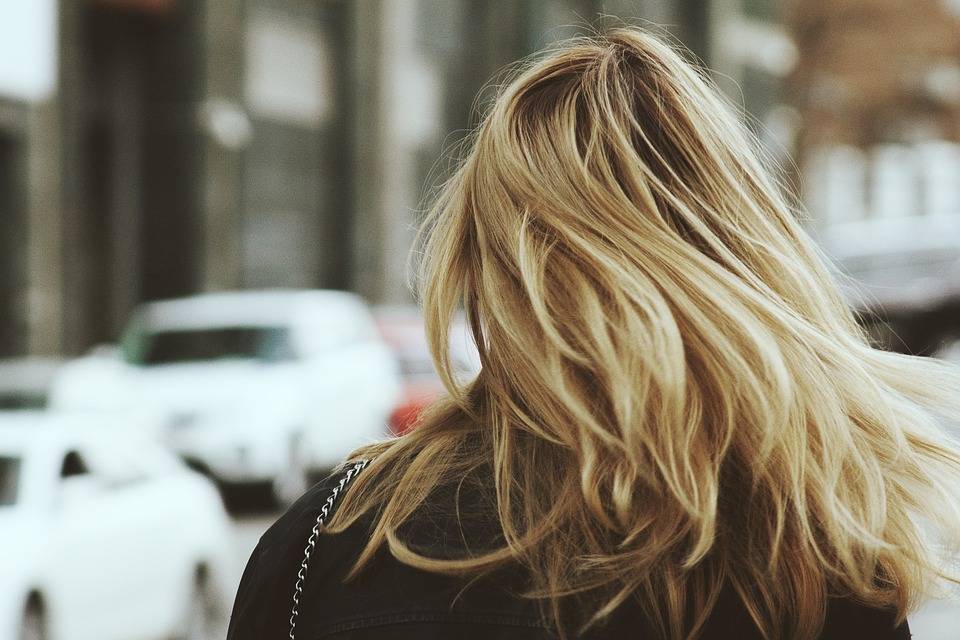 Medium Neutral Brown
A neutral brown highlight creates subtlety and adorns your layers while adding texture to you darker hair. Medium brown should be okay for hair that's not much dark. You get the impression of thick strands. The middle part of your scalp gets hair that easily conceals thinning spots (if any) around the temples.
Medium Brown to Dark
Get a shoulder-length bob cut. Don't lose the bangs that sweep by sides. You need to be able to tuck your hair behind your ear. Then, apply the medium or dark brown depending on your original hair color and texture. You won't miss the beauty of having a head seems to be full with hair.
Dark Nude Brown
The brunette hue can be soft and the highlights have to be subtle. Choose any way you want to style your hair. You'll be happy to see your thicker (apparently) hair.
Light Ash Brown
Keep it richer and more articulate at the roots, and have your thin pieces lightly woven in. you'll get to see healthy layers, and they should look even thicker as you move.
Light Iridescent Brown
You'll want more of a chestnut hue or a brunette shade that lends luster for an illusion of a youthful volume, but that the hair becomes hydrated and healthy is real.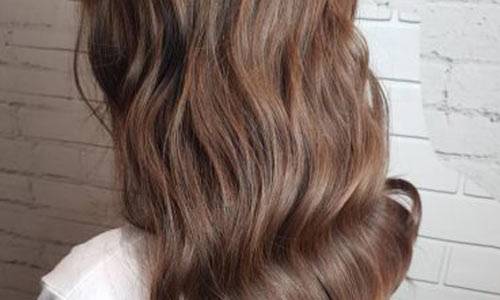 Gray Variations
Provided that you love shocking bright white or whole silver, the world hasn't really ended. Try to get side-swept bangs to cover your scalp that shows through oddly. This time it will serve as a distraction for others to run into your thinning condition. But, don't overdo it.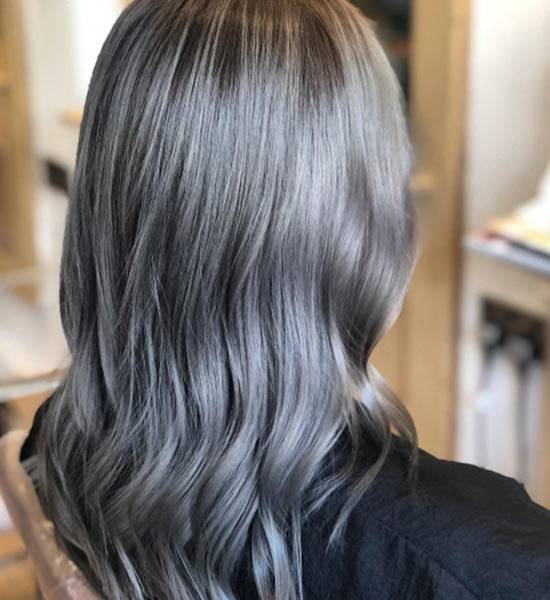 You've the suggestions for color for thin hair. Should you start experimenting with them one by one right away? There's more to it!
Examine both your scalp and hair to make sure they can take the dye you choose to apply.
Thin hair gets along with the dye pretty fast. So, avoid leaving the dye on hair longer than the duration recommended in the product's instruction.
Darker and low light hues are ideal as they add depth and dimension to the hair. You may try other variations too.
For brunettes or redheads, gold tones are preferable. For women with lighter locks, different shades based on purple, red, jet black, or deep gold work fine.
Use a hydrating mask to treat the hair because you don't want dry hair with brittle shafts.
Use of hombre in excess is avoidable as it might emphasize your thinning ends.
Avoid shades that are too dark to conceal your thinning ends.
Free of ammonia, peroxide, and other harsh chemicals, semi-permanent items are better at adding volume to your hair and preventing it from damages than permanent solutions.
Things to Know Before Coloring Your Fine Thin Hair
Although coloring thin hair adds a vibe to your hair, in the end, hair risks are involved there. Your hair may damage due to the thin hair coloring technique.
However, to keep the hair nice and healthy, some techniques are available. These techniques will allow you to reduce hair damage.
The best option for you is, before coloring your thin hair, do consult with a hair professional.
But this is not the only option. Make sure you have read and followed the instructions given in the coloring box.
Below are some tips from the hair specialists that will assist you undoubtedly.
Before coloring, do a spot test. This test will allow you to know whether your hair and skin show any allergic reaction to the color dye or not.
Hair dyes are intended to show a fast reaction to thin and beautiful hair. Don't allow the hair dye to stay an extended period than the instruction. If you do so, you will end up with darker or extreme hair color.
During the hair coloring process, divide your hair into multiple sections. Then follow the hair dye application process. This way, you will get even hair color.
Try to add different highlights and tones to your thin hair.
If you have any other secrets available regarding the thin hair coloring technique, let us know. You are always welcome to make comments in our comment box.
Finally, you ought to be careful about the frequency of using hair color for thin hair. The color molecules stay in affinity with thin hair for longer than with other types. It lets you have the dye on your hair for months, even years.
The only wise thing to do is let one dye stay for a while and avoid changing the color too often. So, you see having thin hair is not a problem, and if the color is right, you can relive your buoyancy without judgments.