Fashion contact lenses also known as decorative contact lenses can change your appearance in a substantial way. It would be so cool to have eyes matching your dress, an eye color that compliments your costume on Halloween or the logo of your favorite team to show them your support. All this can be done with fashion contact lenses. They are just like any other fashion accessory you use to enhance your outlook. Contact lenses are now a common tool used by many people worldwide to elevate their look. In store or online, discount contact lenses are available in all the colors, styles and logos suitable to your needs and specifications.  
Color contact lenses are like trying a new trendy hair, it can completely transform you with an additional benefit; they can be removed or swap them whenever you feel like. They can be used as an enhancement on your original eye color or shoot up your entire look with a bold and statement making color, which makes everyone sit up and notice you. Color contact lenses bring spark and zest in your eyes. Also, if you have selected the perfect color contact lens for your eyes, then let them do the magic. Minimize the accessories and let this one creates havoc.
Opaque contact lenses
In order to stand out with this fashion add-on, one needs to pick the best possible option. It depends on the look you anticipate and how much of a transformation you aim for. All decorative lenses are devised to boost, elevate and upgrade the look of your iris. Opaque colored contact lenses offer complete transformation as they are designed to completely mask the original color, thus creating a vibrant and dramatic metamorphosis. Choose colors like blue, green, violet or grey and make any drab outfit stand out.
Enhancement contact lenses
If you are someone who likes to give subtle hints of a change without going all out, try your hand with enhancement contact lenses. They can intensely glorify your original eye color, rather than a complete evolution. These are best for light eyes as dark eyes won't support such a light tint and it would be a waste of time. Opaque lenses and enhancement lenses can be a fashion statement as well as a tool for vision correction.
Decorative contact lenses are the secret weapon of beauty gurus. Hair styling and makeup can work wonders but color contact lenses are game changers in the beauty industry. At first, buying color contact lenses may seem like a luxurious accessory but a trip to a beauty salon, with hair styling and makeup job, will be a petty amount. If you are not convinced just yet read on for many benefits of enhancing contact lenses.
When you don these decorative contact lenses the people around you can't really pinpoint on what is the change in you but they sure know you look altered and amazing. They give you an inner confidence that shines bright through your eyes. If you opt for a completely different color or just enrich the original, the end result is stunning!
An array of colors available
Do you want to stun the world with hazy grey irises? How about sparkling emeralds or glowing sapphires? When it comes to tinted contact lenses the color options are endless. Eyes are the windows to your soul; let's add a little extra twinkle in them. These lenses have come a far way in design betterment, color options and tints, they are now better in many ways. Our eyes naturally have shapes, lines and patterns on them. Fashion colored contact lenses try to replicate the eyes as much as possible with dots and lines that radiate outwards. The center is always clear so that there is no hindrance in visibility.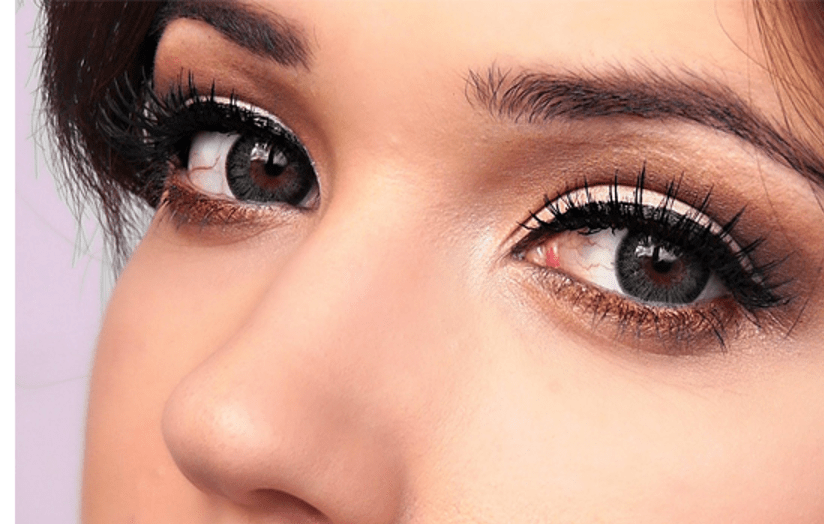 When going for a change of look through colored contact lenses ask yourself if you want a natural, bold or dramatic change. There are basically three types of tints. First one is a visibility tint that is not for cosmetic purposes, it is used for impaired vision. Enhancement and non- transparent tints are medical devices as well as cosmetics. Enhancement tints are best suited for light eyes and opaque ones go perfect with dark irises.
Prosthetic contact lenses
Colored contact lenses are not only for beautification, it's a life saver for people with mutilated irises. These kinds of lenses are called Prosthetic contact lenses, prescribed to people who have a flawed eyeball due a defect, disease or trauma. They can be both therapeutic and prosthetic if the person has many ocular disfiguring. Using these kinds of lenses ensure you can look gleaming and unblemished and never feel insecure about how you look. Visit klenspop for all kinds of fancy colored contact lenses.
Choose the correct color for your eyes
Although you can opt for color contact lenses with prescription but most of the time, they are Plano (means have no power). The most exhilarating part is to choose the right color for your eyes. This is imperative if you want to flaunt the new you. It should be something that is revered and admired by all. If you have brown eyes and you opt for a grey color lens it will not give the impact you want as the original is too dark for the contact to show up. A warm honey brown or hazel would be a perfect enhancement accessory. Once you decide the right hue, take out time, make some effort to match clothes with it so that the overall look is pacifying and satisfying.
Better safe than sorry
Although it is a cosmetic accessory one shouldn't forget that it will make direct contact with our eyes. Never get your decorative contact lenses from street vendors, salons, convenience stores, beach shops, flea markets or novelty stores. These distributors aren't authorized and one should steer clear of them. Always go for an eye exam to have a detailed picture of your eye and a prescription is a must that includes lens measurement, brand name, and also the material best suited for your eyes. Duly follow the cleaning and disinfecting instructions to maintain optimal eye care.
Revamp your look with these fashion contact lenses, give your incomplete outfit the perfect add-on and radiate style.