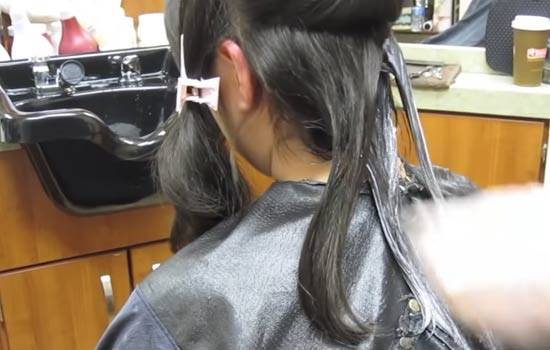 Who doesn't fantasize for a fab, glam, shinning look hair? Through permanent hair straightening, you can give a glowing look to your hair.
Are you planning to give a permanent hair treatment to your hair but don't know much about it? Shake your hands with me, because I am going to provide you with a brief about hair straightening. This process is also known as hair smoothening. Yet, before doing this treatment, you need to understand how this process work. Also, is there any type or not, pros and cons and obviously the cost. So that you can make the decision more precisely. Okay, enough horn totting, let' start. Awesome tips for scrunch short hair style
What is Permanent Hair Straightening?
Permanent hair straightening is a process that you can achieve doing chemical treatment on your hair. Using this treatment, your wavy and curly looked hair will become flat and straight.
Yet there are different methods to do this treatment. But the process of hair straightening is not complex at all. This treatment needs several months to finish. It will finish when new hair grows in to replace the hair that was treated. Because of this, it is called permanent hair straightening. You can get your permanent hair treatment either by going to a salon or launching a DIY project. Amazing hair color tips for thin hair
Types of Hair Straightening
You can rely on several hairs straightening methods. These methods are differentiated based on the chemical formula and processing method. Some treatments are available with kits so that you can do it at your home. On the other hand, some techniques you can't achieve without going to a salon. Let's give a look at below for more details
Method 01: Professional hair straightening
You need to consult with a salon to wear this treatment. Based on your hair and salon type, the cost will vary. The price starts at $50.
Type
Definition
Pros
Cons
Professional Hair Straightening
A perm refers to a chemical process that works to change your hair follicle permanently. Generally, it is used to make your hair curly but an effective process to straighten your hair too.
i) Cheap and time-consuming.

ii) Last-longer, minimum of 6 months.

i) Damages the hair follicles and your hair will no longer show its beautiful natural looks.

ii) Hair breakage and loss can happen.

iii) After treating your hair, you can't take color-treatment.
Method 02: At-home perms
You need to have a formal cosmetology training to use this treatment. For home use, you don't need to be worried about the chemical because approval is there for home use. The cost starts at $15. It will last long for 5 weeks.
Type
Definition
Pros
Cons
At-home perms
You can buy beauty kits from your nearest store and following the manual provided with the kit you can start doing your DIY project. Hence, you will get the same result similar to Professional permanent straightening.
i) Affordable in price and easily purchasable from the nearest store.

ii) Easy to use.

i) Reliability of the products is not tested yet. You may lose the treatment after giving a single shower.
Method 03: Semi-permanent hair straightening
It is also known as Keratin hair treatment or Brazilian blowout. You need to take several salon appointments to finish this treatment. The cost starts at $150.
Type
Definition
Pros
Cons
Semi-permanent hair straightening
A method of treating your hair for a straight texture.
i) Your hair will become much soft and smooth than other hair treatment.

ii) Last-longer, minimum of 4 to 6 months.

i) Your hair will never back to its natural condition.

ii) Be careful about the ingredients before using as ingredients may contain harmful chemicals.

Method 04: Thermal straightening
This process is the longest one among all other treatments. It is expensive too. The range of the cost is $200 to $800.  It will last long up to 6 months.
Type
Definition
Pros
Cons
Thermal straightening
It is a Japanese hair thermal straightening process that is also known as an acid perm. Thermal straightening and traditional straight perm process are similar to each other.
i) Easy to maintain.

ii) No need any additional maintenance.

i) Holds harmful chemical.

ii) Suddenly you can't stop using this treatment, you may need several touch-ups before you stop this treatment.
How Does Permanent Hair Treatment Work?
The methods of permanent hair smoothening are all the same. Our hairs are full of protein molecules. When a chemical is applied to our hair, protein molecule reacts and changes its configuration. Then a neutralizer is applied that lock our hair growth into a new shape. Our hair can't create a unique bond with protein after using this neutralizer. As a result, new hair growth stops.
Yet, the permanent hair straightening process is short. But you need to wait for several hours on the chair. So that the chemical can pervade with the hair appropriately. Sometimes, the chemical scent is rough. And after the treatment, you may find that your hairs are getting wet or sweating a lot.
Side Effects of Permanent Hair Straightening
Hair damaging is the most common side effects during a hair straightening. The responsibility of the chemical is to let your hair flat and reduce the natural look.
Almost all methods contain Formaldehyde in the chemical solution. It is a harsh chemical that you will feel irritation to your eyes and nose while applying.
Your hairs may become thin.
You may face scalp burns if you follow the wrong technique.
Warning
If you are pregnant or planning to get pregnant, don't apply any of the permanent hair treatment.
Final Thought
Do you think "permanent" means "lifetime?" Here, permanent means for a specific period you will have a straight and flat look of your hair. Whatever the process you follow to achieve it, don't forget to consult with a hair specialist. Finally, choose the best option that suits your hair.