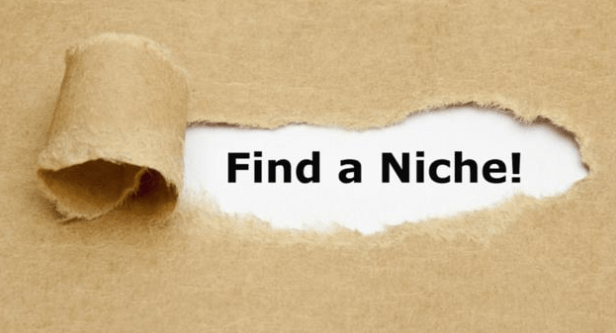 Probably you want to do online business or want to make your own money-making website. But you can't take decision that which niche you should choose or can't identify which will be more profitable niche for you. However, you are in right place. In this article, I will tell you everything which you need to know before choosing a niche.
Niche selection with light market competition isn't very easy task. You have to do it maintaining a rough process. According to top marketer's opinion, it is said that "your blogging success mostly depend upon how much better way you choose your niche."Shortly we can say, "Planning is the trapped to capture of future."
Though, I already told that selecting a niche is not easy, I will show you the most easy and effective way. Before starting our core discussion, you have to know the definition and types of niche.
What is Niche Market?
Bloggers choose their blogging topic before starting their work. Suppose, Mr. Roy decides to start his blogging with the topic of 'pet foods'. He chooses pet niche. You can replace the word 'niche' to 'blog topic' for understanding about the definition of niche market.
The important part is understanding the types of niche. We actually see two types of niche in web. These are:
Single Niche: When marketers work with a single product line it's call single niche. Suppose Mr. Roy works with 'pet food', here pet food is a single niche. The real example of a single niche is bestmattress.com (this website is reviewing only mattress).
 Even you can divide single niche in two ways 'narrow single niche' and 'broad single niche'.For better understanding I want to give examples. Suppose Mr. Roy is working with pet foods niche (dog food, cat food, cow food, fish food, peg food and so on). Therefore, you can tell the niche pet food is 'broad single niche'. Otherwise, Mr. Roy was only interested to work with 'dog foods', the niche will be 'narrow single niche'.
Multi Niche: When marketers work with multi product line it's call Multi niche. Suppose Mr. Jon works with 'tech', 'Pet' and 'Health' niche together. Here we can tell that his niche is multiniche because of different product line. thewirecutter.com is the real-life example of multiniche, you can visit here for better understanding.
You can divide multi niche in two ways 'narrow multi niche' and 'broad multi niche'.For better understanding I want to give examples. Suppose Mr. Jon is working with Tech niche. In his niche, he has different products line, such as laptop, mobile, tv, refrigerator, AC and another electronic device. Therefore, you can tell the niche of tech for Mr. Jon is 'narrowmulti niche'. Otherwise, if Mr. Roy was interested to work together tech niche and health niche, then we can tell it as 'broad multi niche'.
 One Important Consideration Before Starting to Find Your Niche
Actually, your niche finding process is mostly depended upon on your earning sources or your profit generation planning. Basically, bloggers make their money 2 major sources. Such as:
Affiliate Earning (amazon affiliate, eBay affiliate, AliExpress affiliate program etc.)
CPM, CPC & Advertising Earning (Google AdSense, Midea.net, Chitika, Bit Adviser etc.)
If you focus on generating your income from affiliate marketing sources, you will have to take little different steps. Otherwise, when you are choosing advertisement earning you have to go forward in different process. I will parallelly discuss both in my step by step guideline below. Therefore, continue reading!
Steps by Steps Guidelines Choosing a Profitable Niche for You
#Step 1: Generate Ideas About Niche
This is the first and the most important part of selecting a niche. For affiliate website, you can to go amazon product sessions and go to every sub-category. You obviously find many undiscovered and less competitive niche. Put all of these niches in an excel sheet for further process.
And if you are thinking of making a blog which earns from CPC or advertising network, you will have to choose a niche considering CPC rate. For this purpose, you can use Google keyword planner to find niche. Or, another effective way to find such types of niche is visiting Wikipedia or big renown multiniche websites. After getting all of your possible niches, put all together in an excel sheet.
Now, go to the next steps.
#Step 2: Justify Your Knowledge About Your Selected Niche
You should not choose a niche without knowing details of the niche. Suppose you are choosing an automobile niche; you must have knowledge about it. Otherwise, you can't guide you writers as well as SEO agency. Suppose, you choose a niche but don't have proper knowledge about it. In this situation, you can study about your selected niche, after getting proper knowledge than start your niche.
#Step 3: Check Google Trend or Check Trendy
You shouldn't skip this step anymore. Because it is one of the major issues of selecting any niche. Search your niche on Google trendy to see your niche is trendy or not. There are two types of niche. One is seasonal niche (for example umbrella, racquetball racquet etc.); and another is ever green niche which is trendy to all seasons (for example floor cleaners, window cleaner etc.)
Obviously analyze recent past and future trend as well. Therefore, you can make a future prediction about your niche.
#Step 4: Analyze Your Competitors
Now, market is too much competitive. Almost in all niche, you will find a lot of competitions. How you will research your competitors and what the indicators are to know your competitor's strength, I discuss further, just keep reading.
#Step 5: Research Keywords for Your Niche
Now it is time to deal with on-page SEO. Before starting your niche, you have to make a proper on-page SEO strategy. Keyword analysis is must before lunching your niche site. We recommended you to use 'Google keyword planner', 'keyword everywhere' and 'keyword.io' for analyzing your keywords. Find some seed keywords at first, then find long-tail keywords for this seed keywords. In our website, we will find proper guideline for researching keyword, read this article before starting keyword research.
Suppose when you are thinking to do affiliate website, then you need to select some buying keywords with the phrase of 'best', 'top', 'review' etc. However, when you are thinking to create a blog website, then you need to select some informative keywords with the phrase of 'how to', 'refer to', 'information of' etc.
#Step 6: Finalize Your Niche
Above all done! Now youare ready with your niche. Finally check your niche again to make it profitable. If your niche is for affiliate marketing then make sure your product price is above to $100. And if your niche is for advertising network then make sure your keywords CPC is more than $1. If all are perfect, then I can confidently say you book a huge profit for you.
Conclusion
Remember, your project success depends upon your niche selection. Don't go to any competitive niche. You always should focus upon the niche which is less competitive but profitable. However, if you follow all of the steps properly, you obviously become success to find a profitable and unusual niche for you. You have to study much to gather enough knowledge regarding this issue. You also can get helps from any good consultancy firm for finding a profitable niche. By the way, let us know if you have any other question regarding this topic.