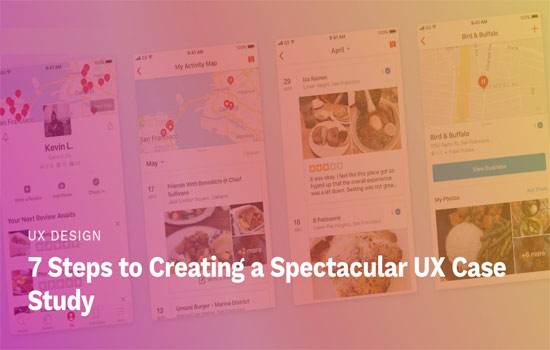 We have tried creating a perfect and an impact UX case study for the budding designers. Now that you are embarking on a new journey to hunt jobs on your way, It is the time that you must go through all the study and analyze:
There are seven steps in the procedure: 
1 Overview
2 Problem and the goal
3 Scope
4 Target audience
5  Process
6 Deliverables and the outcome
7 Lessons learned
Each step will help you identify the story that you must work effectively and efficiently. Once you have completed with all the seven lessons, you can drive an excellent case study tips .
Pro tips:
Make sure that you have enough visuals and documentation and are fully prepared, it needs to be top-notch! All this needs to be attached to the deliverables section as the final one to craft your stories better.
Make sure that you are respecting the NDA as daughters one of the signed agreements that both the parties have confirmed upon.
Take all the design challenges as a UX designer. Don't ever treat any job application in a casual way.
Coming back to the steps, let's take a look!
Step 1: Case Study Overview
The two major components that create the study overview are critical in this subject matter. Make sure that you're keeping at least 3 to 4 sentences. It will be helpful if you have completed the entire case study and have summarised it after what you just wrote.
Another integral component lies within the project. Make sure that your name is doing all the services, responsibilities that you include, and you need to concisely explain everything in one place. Give the potential employees a crisp picture of what all achievements do you have in those projects that you have played in your contribution so far. On the worst side, if you don't put the best foot forward devil just as you that you are not good at all as a candidate.
Step 2: Define the Problem and Goal
Make sure that you have articulated a problem in such a way that crafts outer an interesting story. You need to be self-explanatory and be concise enough by explaining the issues and the objectives. The next step comes to identifying the goal of the project. If you have to be detailed enough to explain your objectives, be that:
It can be about gaining 20,000 new email subscribers.
Your retention might get increased by 20%
The revenue of MOM might be improved by 20%
There can be decreased in the withdrawals by 60%
Step 3: Scope
One needs to understand what is the scope of the project so that you can comprehend the case study in a better way. The overall project scope depends largely upon the roles that you have perceived so far. You need to differentiate the boundaries of your project so that there's no scope that ranges away from the expected.
Step 4: Target Audience
We need to identify your target audience against the case study by answering the following questions such as:
– Who are these people?
– Will the problem affect these people?
– What are the key insights that one can drive?
It can be many details to cover with the help of the target audience. Make sure to a concise with your objective as well be treating the audience section in two ways. You can share everything in an upfront way. Or the second would be that you can address whatever you have learned so far in the process selection. So it's upon you what way would you choose to define your information gathered. Now that you are discovering and handling new information which can be a huge part of becoming a website designer. For more insights into your procedure of the design, you can also mention a few questions that are related to the investigation and solving the customer's problem. Make sure that you have mentioned all the details that have researched on the user through the designing process section.
Step 5: Process
Now that you have got all the ingredients of the case study it is now at this stage that you will identify multiple steps that are been taken in this procedure. Ask yourself: "Why are you doing this?" This will add value to all the outcomes of the project and action. You are good to go! Show off your fantastic skills and play contribution to all the trade-offs. Understand that all these projects will be different and you need to give your best potential out. Few of the things that will be same in every project are:
1 User research
2 User journey mapping
3 Wireframes
4 Mockups
5 Prototypes
6 User testing
7 UX writing
8 UI design
9 Accessibility testing
10 QA testing
Step 6: Deliverables and Outcome
It's time to wrap up the case study. Make sure that you have sent out the final deliverables. If you have discovered a new mobile app, don't forget to attach a few screenshots of all the recordings. This will help you in taking off some additional assets and documenting is the best possible manner to show your work. You can also create a bullet list of all the deliverables that you have done so far as that stands for professionalism. The tone and the voice are notably best measures for the project's success.
You can define your goals by asking a few of these questions such as:
Did you hit the goals? Or surpass them?
What will be your project's outcome?
Would you mind sharing the results of other businesses?
We're there any withdrawal rates that were decreased by 20% or were there any complaints about customer service by 30%?
Was the landing page good enough to get conversions?
Step 7: Lessons Learned
You need to tell the potential employer what all the learning that you have been taught during these projects. If something went wrong how did you handle the failed attempt?
Conclusion
You need to craft out a story in your words about all the work that have done so far. If you follow all the above-mentioned states, then you'll surely have a bright future and website designing.