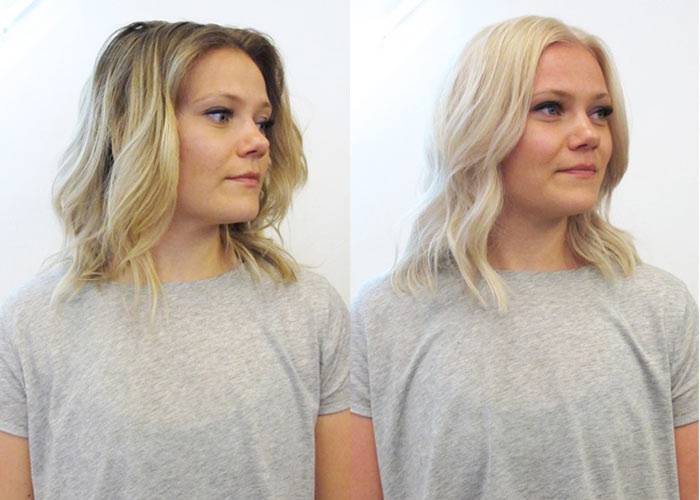 Do you love to DIY your hair all colors of the rainbow? But have you trapped for yellow hair after bleaching? It can happen, but it is not only you who are suffering the same problem. Thousand of stylish women feel embarrassed about their yellow hair.
Next time, they don't dare to bleach their hair with a lovely color. It is good news that there have a lot of solutions to this issue. Depending on them, you can enjoy your hair with your wishes color, and it is possible at home.
Yes, today, we will discuss with you several tips to remove yellow hair tone after bleaching. If you can follow the tips and tricks properly, you can fix yellow hair after bleaching yourself. 
The cause of yellow hair after bleaching
When you bleach your dark hair, it'll start change into reds, yellow, or orange color. You can't find expectable blonde hair after bleaching or applying high-lift dyes. To find platinum, you should remove all pigments from the hair. Bleach isn't only DIY your hair but also reset all pigments from hair. At the same time, the hair becomes weak and even white from the darkness. So, bleach will go very risky for your lovely hair.
After bleaching or applying color, your natural hair, various tones begin to show, such as orange, red, yellow, pale, and even white. If you have brown or black hair naturally, the red for brown and dark for black color in the hair isn't possible. These jobs damage your hair ultimately. Depending on your hair tone and the quality of the bleach, it can make it possible to control the yellowness into a few areas of your head. In this case, you must be careful and avoid to use over-bleach the hair.
After all these points, you should decide any alternative process to bleaching first. If you think you know how to fix bleached hair that turned yellow without damaging your hair, you can go forward. If you decide to bleach, the next statement of this post is for you. It'll help you to take care of your Dyeing hair.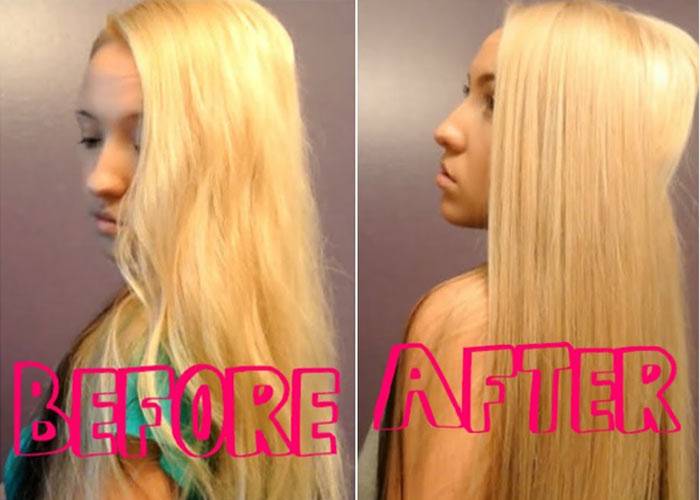 How to get rid of yellow hair after bleaching
1. Go lighter using bleach
If you can't feel comfortable to bleach your hair at home, you should go any hair stylish. They will do this job professionally and correctly, which is essential for the hair. But bleaching the hair at home is so simple and easy. The process of dying is not so complicated.
If you want to bleach yourself, you need essential and high-quality bleach powder. You should know how to get yellow out of blonde hair with the right method of DIY. You can lighten your hair once or twice in several days or weeks to get lighter hair. After getting the best bright color, your hair is ready to tone.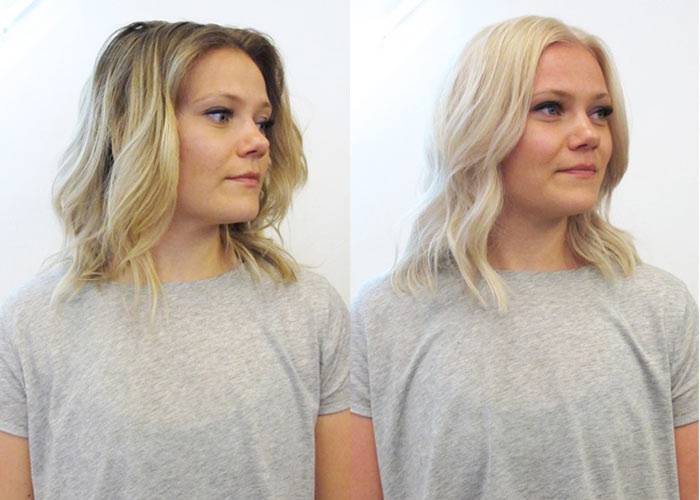 2. How to fix bleached hair
How to get yellow out of blonde hair? To know the answer to this question, you should know how to fix bleached hair that turned yellow.
To fix color.yellow hair after bleaching, you should use a non-damaging solution conditioner mask with a purple
Choose the right toner according to your hair level.
Then select an advantageous blonde hair color.
First, try to make sure that the hair has lifted to the right level, and the hair looks like the peel of a banana.
When you will sure, you can use a purple toner or conditioner to fix it.
When you attach to use toner, you must follow some rules such as don't add too much toner and don't leave it for a long time on the hair.
Use baking soda to wash the hair, and it helps to remove excess toner.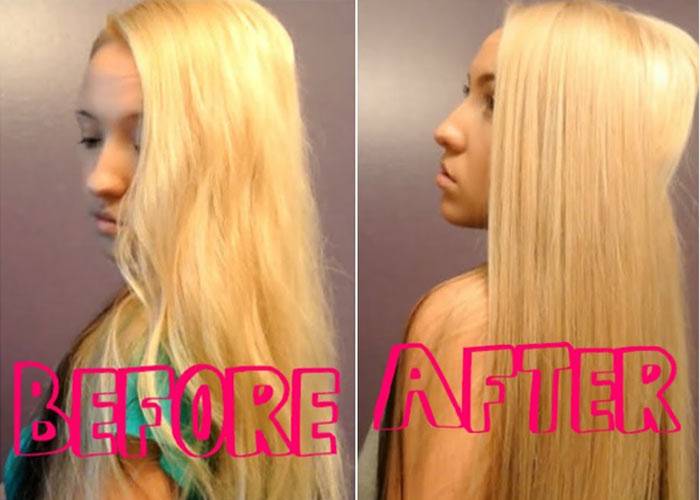 3. Homemade toner to remove yellow from hair
A hair toner is a great solution to get rid of yellow bleached hair. You may want to keep your black hair warm natural pigments. You want to lift warm yellow tones with a habitual sulfate shampoo for your light hair.
A hair toner helps you to remove those pigments on the opposite end of the color range and neutralize your hair with the warmth. You love to get light blonde hair but without yellow tones. In this case, an instructive treatment can remove products. Plus, it deposits mineral sufficiently to give beautiful toner hair.
Our homemade hair toner list show below with full process.
1. Baking soda with shampoo
Ingredients:
Shampoo: sulfate-free
Food color: Blue & purple every 2 drops.
Baking soda: 1 teaspoon.
Processing time: 10 minutes
Preparation:
Take the ingredients into a mug and combine them with a few tablespoons of water. Rest it for a while.
Rinse your hair and use the shampoo mixture.
Leave it to set it for 5-10 minutes and rinse off.
Add a few drops of food color with your regular conditioner and apply it after shampooing.
Restrict:
To use this toner, you should follow some restrictions. You should not use this toner more than once in a week. You can use sulfate-free shampoo to wash your hair normally.
Works:
Baking soda shampoo is essential, and it works excellently as the best hair treatment. Food color combination with shampoo works well to get rid of the product and minerals buildup and helps to fix yellow hair after bleaching.
2. Apple Cider toner
Ingredients:
Apple Cider vinegar: 1 tablespoon
Sufficient water.
Processing time: 15 minutes
Preparation:
Mix the apple cider vinegar with water in a mug.
Apply it on through the hair and wait for 15 minutes.
Use freshwater or lukewarm water to rinse the hair.

Restrict:
To get the best result, you should use this toner at least 2 or 3 times a month. But don't use it more times because it'll dry your hair and damage the hair very soon.
Works:
Apple cider vinegar contains acidic that works well to remove yellow blonde hair. This toner works well as a deep purifier and helps to reduce product buildup.
3. Lemon toner
Ingredients:
Fresh lemon juice: ¼ cup
Water: ¾ cup
Raw honey: 2 tablespoons.
Empty, clean spray bottle.
Processing time: 2 hours.
Preparation:
Transfer all ingredients into the spray bottle and then shake it very well to combine them finely.
Spray this homemade toner onto your hair correctly.
Give it 2 hours to set.
Try to stay at least 30 minutes in the sun.
Wash the hair using sulfate-free shampoo and at last use conditioner.
Restrict:
Don't try to use this natural toner more than 2/3 times a month.
Works:
From many years ago, honey and lemon have used as a natural toner. We know both of them are the bleaching agent with acid and vitamin C. After using this toner a couple of times, your hair can get a couple of shade lighter and works to remove yellow from hair.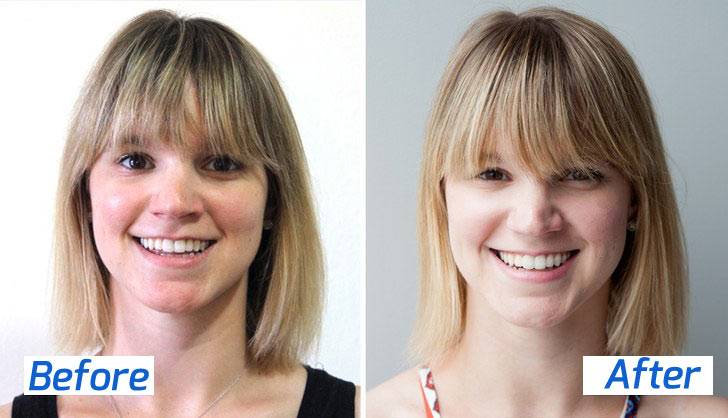 4. Why homemade hair toner
How to get yellow out of bleached hair? Yes, you should choose a homemade hair toner as a great solution to this yellow issue. Through this solution, you can get a professional answer at home. It'll change the hair care routine and helps you to keep warm tones out of your loving hair.
Most of the homemade toner doesn't contain too many chemicals rather than natural ingredients. So, they won't risk your hair. You don't see the gorgeous color for the first time, but it looks so lovely and reveals the pretty color at the end of the day. If you have the ingredients available at home that we mentioned in this post, you also can try it and can get a good result.
5. How toner works
Toner is known as a gloss and is designed to eradicate unwanted colors in the hair. Now, you are thinking about how to fix yellow hair with toner after bleaching. A toner will work great to fix unwanted brassy and red tones and help you to get the perfect ashy color.
Permanent and semi-permanent hair toners are available in the beauty store. Both toners are right for undertones, and they answer how to remove yellow from hair. Anyway, you can choose a semi-permanent color to reduce yellow tones from the hair. It is preferable and doesn't have more risk to damage the hair.
6. Is at-home toning safe?
When you ask how to remove yellow from hair, the name of toner comes at first as a solution. But now it needs to know that toning use at home is safe or not. Today you can see various toner products in the supermarket or beauty stores that use to cancel the yellow or brassy color that can come after bleaching.
They are good, but if you don't know how to use them properly and don't know about permanent and semi-permanent hair color, it'll harsh for your bleaching hair. So, if you can use a toner at home correctly, you can do it. Otherwise, you should leave it trying at home and should go to a salon.
Frequently Asked Question
Question: Will yellow hair restore its beauty if I use purple shampoo?
Answer: Whether the purple shampoo is for those who have achieved in a saloon or naturally or through highlight. The responsibility of purple shampoo is to cancel out the yellow hints of your light-colored hair. This way, your hair will become cheerful and lovely.
Questions: To get the required tone after bleaching my hair, how long do I need to wait?
Answer: This is the most buzzing question when anyone is fixing yellow hair after bleaching.
Well, you have to wait for 15 – 30 minutes (minimum) after applying the mixture and after then rinse it out. It is mandatory to use the toner after bleaching.
But it is advisable to look at the manufacturer's instruction first and follow the guidance. If you follow the instruction, the process will be much easier.
Question: Is there any home remedy available to get rid of yellow hair?
Answer: Yes, following a few simple steps at your home, you will be able to get rid of yellow hair.
Make a mixture of a tablespoon of apple cider vinegar and a gallon of water.
Shampoo your hair first. Then rinse your hair with the mixture.
Once you finish rinsing your hair with the mixture, then give your hair a well-rinse with warm water.
Condition your strands with conditioner.
Use a soft towel and provide a well sundry so that your hair can dry quickly.
You will have lovely hair after sundry.
Conclusion:
This post is so useful to fix the yellow hair after bleaching. From here, you have got a clear idea about toner that is essential to remove yellow tone from the hair. We hope, after gathering more unknown tips from this piece of writing, you will become so smart and can bleach your hair to enjoy any party.