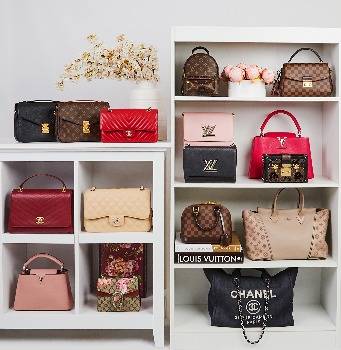 Having several luxury bags in your closet is not unusual today. Because these bags are some of today's most important, must-have accessories, having several options to choose from will always come in handy when you are looking for something to go with or elevate your outfit.
However, it doesn't mean that you should let your closet overflow with your Chanel, Hermès, and Louis Vuitton bags. If your storage area is full to brimming with your designer accessories and you haven't used several of them for months, you might want to consider selling one or more of them.
Offloading your closet with some of your luxury bags allows you to have more space in your storage, thereby enabling you to add more to your collection. Additionally, you can use the money you get from selling them to buy new ones.
Should You Sell or Consign Your Pre-Loved Designer Bags?
Once you decide to let go of one or more of your designer bags, you can get a buyer by consigning or selling it.
Selling is the most popular option for earning money or recoup some from your investment pieces.
Pre-loved luxury bags consignment offers the biggest benefit of giving you the ability to set a minimum value for it. This means that you will have more control over the price, especially when compared with selling it to a dealer.
Additionally, it also helps you present your designer bag to your target audience (people who are more likely to be interested in and buy it).
The main difference between selling and consigning is that with consigning, you will only receive the money or payment once the bag has been sold.
Selling, on the other hand, is the most popular option for offloading your designer bags. You can sell it directly or through a dealer or auction site.
The main drawback of selling your luxury bag through a dealer is that you can't set the price; it will be dictated by the shop after they have evaluated it. And when you work with an auction site, you may end up being scammed by unscrupulous buyers; unfortunately, there are many such individuals on these platforms.
If getting a quick sale is not your main concern and you prefer to sell your preloved bag at a higher price, consignment is your best option.
What Are Some Tips for Consigning a Pre-Owned Luxury Bag?
When selling a designer bag, getting the most from your investment should be your top priority.
Here are some tips for preparing your pre-loved bag for consignment and setting it up for a successful sale:
1. Get an idea of the resale value of your designer bag.
Knowing the price range of your pre-loved accessory can help you have a good idea of what to expect when you sell it. Additionally, it will help you set an amount that ensures you won't get a bad deal.
Start by looking up bags in the same condition as yours online. You can check the brand's website and other shops that sell the same, genuine products.
Search for your bag on eBay and other ecommerce platforms that sell pre-owned items as well. The results will give you a clear idea of how much your accessory costs and the prices that entice buyers.
2. Consider other factors when pricing your bag.
Having a clear idea of how much your bag is selling can help you set the right base price. However, this shouldn't be the only factor to consider when establishing it.
Classic handbags and items under the permanent collection of designer brands always go for more. Examples of these are Chanel Gabrielle, Hermès Birkin and Kelly, and Louis Vuitton Speedy.
Since these bags are timeless classics, they never go on sale and their prices always tend to go up.
If you have any of these popular bags, you can sell it for the same price as a brand new one, especially if it is in pristine condition.
Additionally, consider the other key features of the bag, such as the authenticity card and the packaging it came in, including its dust bag and box. You can also add the rain cover, pouch, and its other original accessories into the price.
3. Prepare your luxury bag.
If you want to satisfy your consignee and buyers, you need to make sure the designer bag you are selling meets their requirements.
Start by inspecting your bag. Is it still in pristine condition, with no noticeable wear or defects? Or does it have visible wear, scratches, stains, and discolorations?
If you rarely used the bag and stored it well, it will likely be in pristine or excellent condition, with no detectable signs of wear or have nearly visible flaws. With their good quality, you can get a higher price for it.
However, if your bag is a bit old and has some visible wear and scratches but can still be used, it is considered to be in good or very good condition. Expect to get a lower price for your item.
If you want to get a better price for your bag in good condition, consider having it repaired or upgraded. Many brands offer treatments for their products in need of repairs, cleaning, and improvement.
4. Take great photos of your bag.
Since customers will rely on pictures to determine if they like your product or not, make sure the photos you get and send to the consignee are of excellent quality.
Make sure the images are not blurry and of the right size. Take as many photos as possible of both the interior and exterior part of the bag.
If the consignee provides instructions for taking photos of your bag, follow them so that they can clearly and immediately see what you're offering.
If you're not good at taking photos, don't hesitate to ask someone more adept at capturing focused, clear, and eye-catching pictures to help you.
5. Create an enticing listing.
Although you may not need to create a listing, consider coming up with one to give buyers a better picture of your luxury bag.
Be specific. This means stating the brand, style, and year of production of the bag. Use descriptive terms so that anyone reading it will understand what they will be getting.
Read listings from other shops selling the same bag as you have to get ideas on creating yours.
Selling your pre-loved luxury bag can be pretty exciting and rewarding. If you opt for consignment and are trying it for the first time, follow these tips to get the most out of your investment.