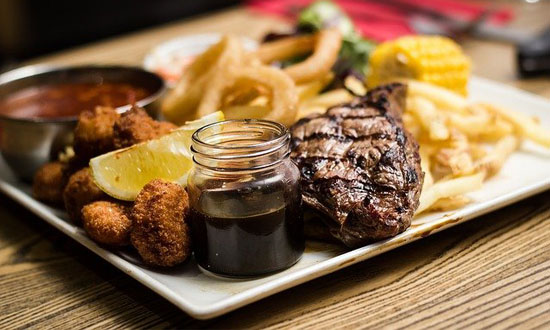 Introduction
If you've never cooked with bourbon, you will discover a unique addition to your collection of recipes. For some recipes, the finest quality bourbon is important. You can make entrees and sides, elegant appetizers, and desserts with bourbon. Measurements are important to balance moistness since all alcohols tend to dry other ingredients.
Adding fine liquors to your dishes is a sure-fire way to spice up any family dinner or date night, social gathering with friends, or just change up the usual dinner routine. These bourbons add a unique flavor that is sure to provide an intense flavor and wow any guests.
Selecting the Bourbon
The process of selecting what kind of bourbon to use for your dish can be a tricky process. There are many different types and flavors of bourbon, some aged some not, some stored in a barrel while others are stored in a distillery. It is important to consider these factors in regards to the specific dish you are preparing.
We outlined below which bourbons to choose from to make sure you are getting the richest and most explosive flavor for each meal. One thing's for sure, if you buy rare bourbon to cook with your meal, it is sure to yield some rich flavors. The type of whiskey or bourbon to choose is at your discretion, as long as you choose a liquor in the general realm of common flavors.
1. Bourbon Duck ala Orange
Ingredients:
1 duck, cleaned. pierced over the entire outer skin and soaked in coarse salt for at least 2 hours to remove excess fat. Drain and rinse to remove salt when ready to use.
1 cup fresh orange juice
1/2 cup orange marmalade
1/2 cup brown sugar
1 cup rare bourbon whiskey
2 cloves of garlic crushed
2-3 sprigs of fresh rosemary (stems removed)
Salt and pepper to taste
Directions:
Preheat oven to 375 degrees. Place duck on a rack inside the baking pan to allow any remaining duck fat to drain away.
In a medium bowl, blend orange juice, marmalade, brown sugar, bourbon, and crushed garlic until well mixed. Add in rosemary. Brush the outer skin of the duck with half of the mixture until well coated.
Bake until the skin is crisp and the meat is moist. In the last 10 minutes, brush with the remaining glaze until the glaze is well set.
Remove duck to a cutting board and allow to rest for 10 minutes before slicing and serving.
2. Bourbon Duck Stuffing
Ingredients:
3 cups of day-old bread cubed
1 egg well beaten
1 cup chicken broth (more if needed)
1/2 cup orange juice
1 tablespoon Teriyaki sauce
1 teaspoon orange rind
1 clove crushed garlic
1 green onion (scallion) finely chopped
1 cup shiitake mushrooms rough chopped
1 cup bourbon
2 tablespoons cold, unsalted butter cut into cubes
1 teaspoon Cajun seasoning (cumin, chili, thyme, sage, pepper)
Salt and pepper to taste
In a large bowl, combine all ingredients and fold until well blended. This stuffing can be baked in the cavity of the duck or placed in a buttered, foil-covered baking dish and baked at 350 degrees for 25-30 minutes.
3. Spectacular Bourbon Appetizers
Ingredients:
12 Melba Toasts (depends on the number of servings)
1 cup freshly prepared aioli (garlic and olive oil emulsion)
6 slices bacon cooked until slightly crisp (reserve bacon drippings)
Duck liver chopped finely
1 cup bourbon
1/2 cup orange marmalade
Cucumber sliced extra thin
Grape tomatoes thinly sliced
Fresh basil leaves
Directions:
In a small pan, add bacon drippings, bourbon, marmalade, and duck liver. Cook until the liver is tender and juices are reduced to pate consistency.
To assemble: Spread each slice of toast thinly with aioli. Top with duck pate, cucumber, tomato slices, and basil leaves. Drizzle remaining aioli over the top of each toast slice.
4. Bourbonized Bread Pudding
Ingredients:
6 slices of day-old French bread cubed
1 teaspoon cinnamon
1/2 teaspoon nutmeg
1 cup mashed bananas
1 cup bourbon
1 cup light brown sugar
1/4 cup fresh lemon juice
1 teaspoon lemon rind
1 cup heavy cream
2 eggs well beaten
1/2 cup toasted pecans rough chopped
1/2 cup dried cherries rough chopped
Instructions:
Preheat oven to 350 degrees. Place bread cubes in a large mixing bowl. Add eggs, heavy cream, cinnamon, nutmeg, brown sugar, and bourbon. Blend well. Add in more cream if needed. The mixture should appear wet but not soaked.
Add in mashed bananas, lemon juice, lemon rind, pecans, and cherries. Place in a buttered baking dish. Place the baking dish in a baking pan with water to 1/4 inch (about 1 cup) from the bottom of the baking dish. Bake 25 to 30 minutes or until the center is firm to the touch.
Presenting the Dish
A dish is only as good as its presentation, so this last step is definitely one to consider. Dinner recipes with bourbon take a lot of time and careful preparation, so you want to make sure to show off your dish with the effort it deserves. A few recommendations include tasteful dinner mats, accompanied plates and bowls, and silverware set up alongside your well-prepared dish. Of course, you can't forget to add the most important part: a bottle of bourbon with some glasses for guests.
Pairing your bourbon-based meal with some actual bourbon to enjoy will provide the most enjoyable and flavorful experience. Whether a rare whiskey connoisseur or the typical person looking to spice up their nightly dinner, these tips will ensure your meal is a hit.
Conclusion:
Bourbon adds a special nuance to any recipe. Since the alcohol cooks down in the process, the remaining flavor of the bourbon gives a surprising finish to all foods, fruits, and vegetables. Cooking any one of these dishes can ensure your next dinner party is a big hit. It is important to experiment with different culinary avenues to really get the most out of your cooking experience. Follow these four recipes and take your guests on a tastebud rollercoaster for your next exciting dinner night.