Is there any girl who doesn't love diamonds? Though it is not possible for all to buy luxurious necklaces or ring of diamonds, adding some diamonds in the nail is not that costly. Be it a new feminine manicure of any occasion where you would love to join with something unique that draws the attention, diamonds have no good rivals. In this article, we are going to let you see some exclusive nail designs with diamonds. Let's begin right away.  
1. Princess Style Diamonds Nails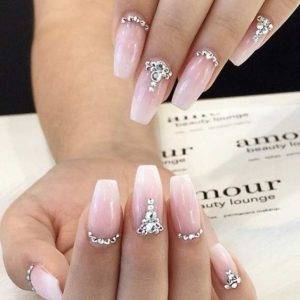 If you are a fan of simplicity, princess style nails with diamonds should go with you. It is great for any special occasion including a wedding. Little diamonds along with the use of rhinestones catch all the attractions. 
2. Pastel Green Blue Diamonds Nails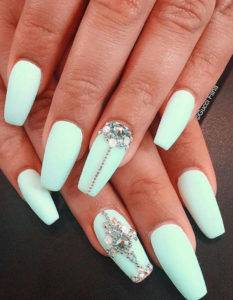 With a rich placement of diamonds and coffin nail design, this style features blue nail polish with base. This suits greatly in summer. It perfectly goes with coral lips and any simple white dress. 
3. Black and White Nails with Diamonds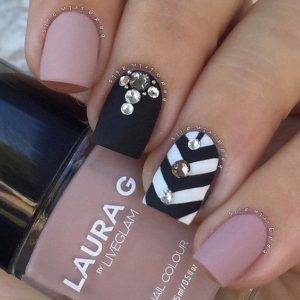 You can check this out if you do not want exaggeration of diamonds, but just as a décor. This design is very sophisticated featuring very tiny and a few diamonds. It looks its best in shorter nails. Coming with a modern mix of black, white, and a bit touch of pink, this design has an exceptional look. 
4. Crushed Diamond Design Nails 
This crushed diamond nails design is way more gorgeous and shiny than regular designs. When your priority is not going so top, you can apply this design. To get crushed diamond, go and look to any craft store by asking them to give you 'diamond powder'. You can use this design for one or two nails of each hand. 
5. Metallic Diamonds Nails 
If you are looking something that goes over the top and futuristic, try this metallic diamond design. Adorn your ring finger with fantastic diamonds. When it comes to the rest of the fingers, the monochrome silver shining polish will be there. However, being the source of great sparkles, it is best for any special occasions.
6. Minimalistic Diamonds Nails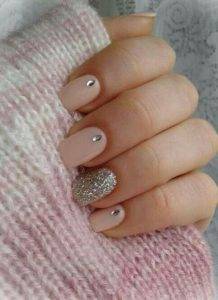 This is for the girls who like to keep their nails simple and minimalistic to look. Having some sparkles with three fingers, some glitters would adorn the ring fingers in this design. This minimalistic design goes perfect with almost anything for being sophisticated and subtle. 
7. Hello Kitty Nail Design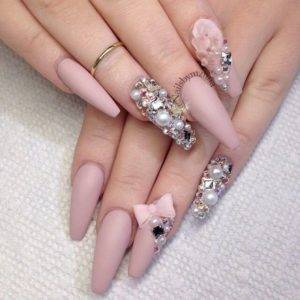 In case you got long-shaped nails, Hello Kitty Nail design packed with diamonds and pearls is for you. With an unlimited amount of diamonds and valuable pearls, this will make your nails very pretty. However, an amateur can't set all these diamonds and gems together. You may need professional help to make sure that everything is placed in the right place. 
8. Blue and Red Diamond Nails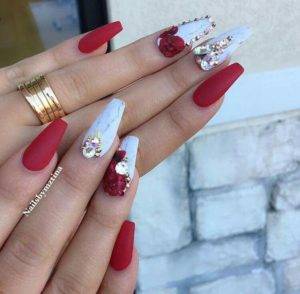 Though you may think it as a bit too much, believe us, it will leave you stunned. You may have never thought before how brilliant a combination can be created with baby blue and bright red. To add a little bit of shine, rhinestones are there.
9. Black Diamonds and Lace Nails 
Golden and black crystals with clear diamonds turn out to be one of the most beautiful nail arts we have seen so far. If daytime is your preferred time to add this, we would love to suggest you using diamonds in an almond shape. Try to use middle fingernails for the best look.
10. Pink with Silver Diamonds Nails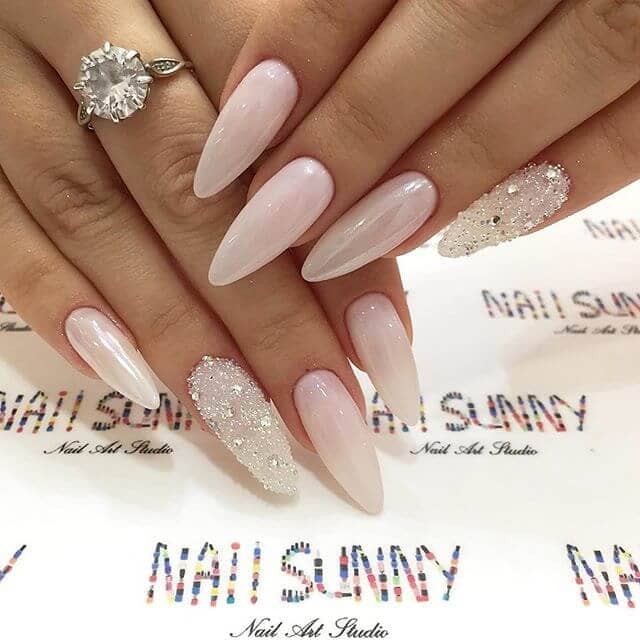 With the glaring baby pink, your nails will have a playful look with this design. You can adorn yourself with any colored of the outfit while carrying this design in the nails. If you want to bag a mild compliment in the next party or meeting, you can adopt this.
11. Ombre Pearls and Diamonds Nails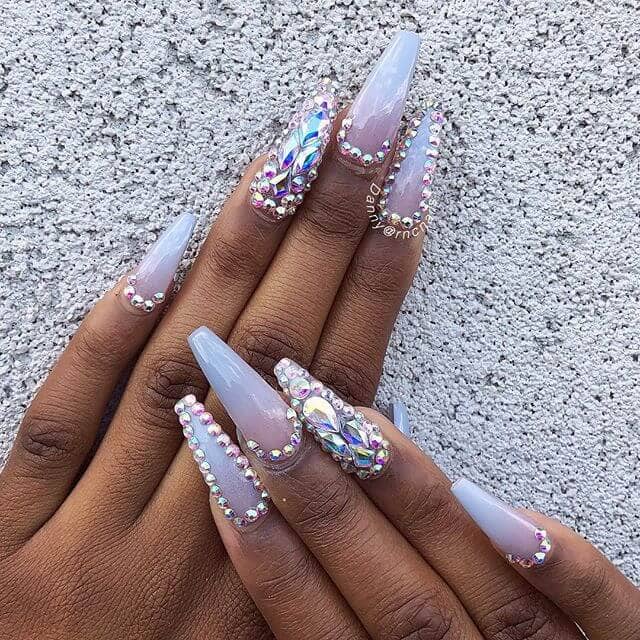 Ombre hue with mind-blowing stiletto shape will just adorn your nails as you never experienced before. You can use these diamonds in every nail. Though it takes time and requires future maintenance, it really worth the efforts.
12. Diamonds and Pearls in Black and White Nails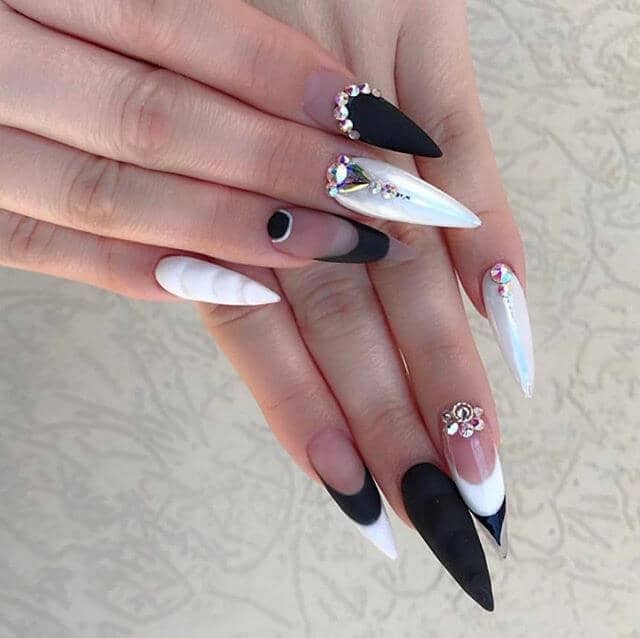 For any formal look, this goes pretty well. You do not need to worry about your pair of heels if you have got your nails adorned with this as this is enough to draw the attention. This is classy by nature. 
13. White with Sky Blue Nails in Diamonds 
This beautiful may make you remind of a blazing summer dawn. Diamonds in the middle and ring fingers are simple but enchanting. If you enjoy the blue of the sky with egg white blend, this is way perfect for you.
14. Diamond tipped Nails 
This design is unconventional. You can adorn four fingers with it in each hand. While the first finger can be white-tipped, the second can be adorned with glitter tip. This can be repeated in the next two fingers as well.
15. Pink Nails with Diamonds 
If you want to cover a formal and professional event, this minimalistic but stylish design can be of your help. For a classy sparkle in the edge of the nails, you are supposed to use very small diamonds for this. 
16. Matte Black with Metallic Pink Nails 
Nowadays, black and pink are considered as a great color combination. While the matte ensures the chic nature, the black comes with a gorgeous symbol of beauty.
17. Pink and White Diamond Nails 
For a princess or ballerina, pink nails with diamonds bring a perfect look. White nails with diamonds can add beauty to anyone. To bring an effeminate touch in you, this can be a perfect blend. This is very sophisticated to be used on any special occasions.
18. White Nails with Embedded Diamonds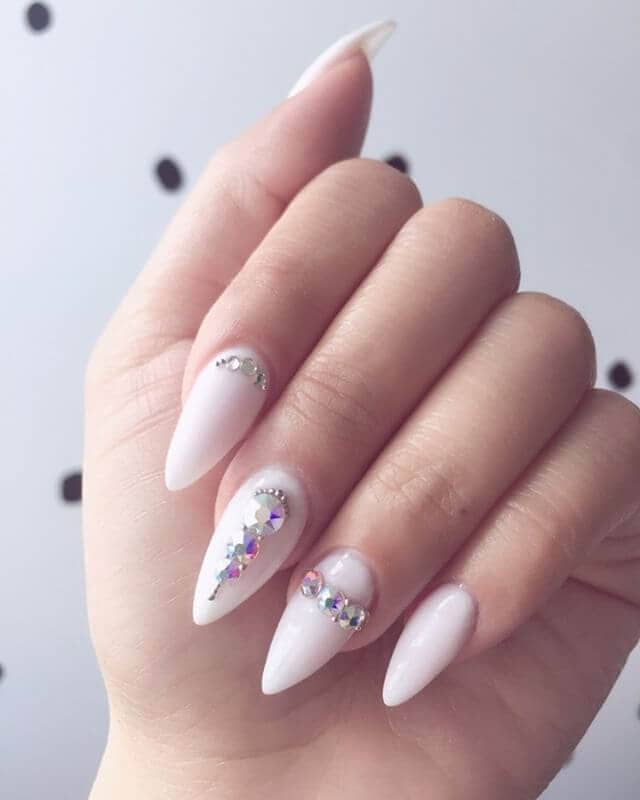 Though white may seem to be a plain color to you, white diamond nails are great to look at. You may get surprised about how much beauty the diamonds add to your nails. 
Final Words:
Diamond design nails add beauty to your fingers. Most of the nail designs with diamonds are easy to do. However, some of the designs are pretty complex and you may need professional help.