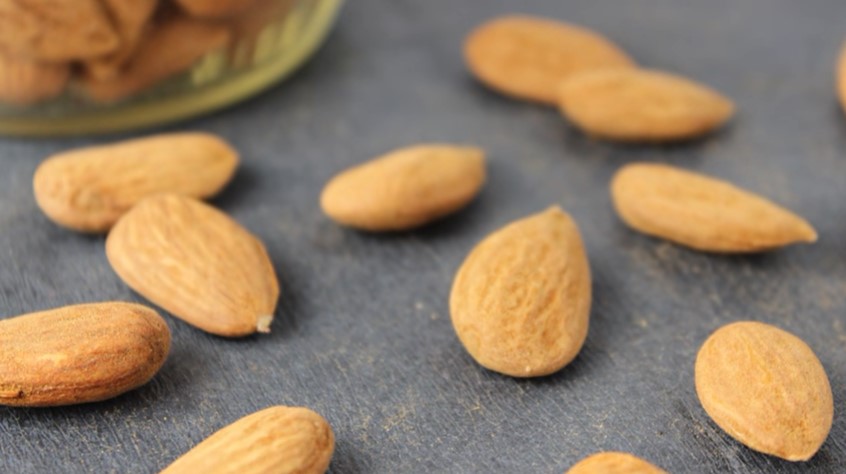 Remember Scrat from Ice Age? The guy was all about nuts! Well, you can't blame him, nuts are delicious. If you have the best nut chopper, you don't need to worry about healthy evening snacks anymore!
Despite the fact that they are often heavy in fat, nuts are beneficial and even the fat they contain isn't much harmful to health. They are also high in protein and fiber which works well for your skin as well.
In this article, we're going to discuss 4 nuts that are must for healthy and glowing skin along with why you should eat nuts every day.
Why You Should Eat Nuts Daily
Other than their benefits on skin, eating nuts on a daily basis will surely turn out to be beneficial for other discomforts as well. They add taste, texture, and something special to many dishes.
If you add peanut butter to oatmeal or a smoothie, your breakfast isn't dull anymore. To make the finest chicken fingers ever, replace breadcrumbs with almond meal, a few spices, and a sprinkle of salt.
To add crunch to a salad, toss in a handful of roasted walnuts or pistachios. Nuts are your pals, both nutritionally and in terms of taste.
Vitamins, minerals, and some of the other nutrients are present in nuts. From being beneficial to skin and hair, nuts can even prevent cancer!
4 Nuts That Are Must For Healthy and Glowing Skin
Now, let's move on to our review section to know all about the 4 different types of nuts,
1. Cashew
Cashews are more beneficial to your hair and skin, than you might think. As they are high in zinc and iron, they are quite useful in preventing anemia. Selenium, zinc, Vitamin C, iron, and magnesium are all present, giving you that sun-kissed glow!
Eating cashews every day is useful for your hair, thanks to their high copper and phosphorus content. Cashews are well-known for their acne-fighting properties. These nuts are strong in selenium, an antioxidant that works in tandem with vitamin E to keep skin moisturized and prevent irritation.
Zinc improves immunological function, which aids in healing and cell growth, allowing damaged or infected acne zones to be renewed and replenished.
You'll get 553 calories from every 100 grams of cashew nuts. Eating 15 cashews every day is an adequate amount for health.
In every 100 grams of cashew, you'll get:
Fat: 43.85 g
Protein: 18.22 g
Iron: 6.68 mg
Fiber: 3.30 g
Calcium: 37 mg
Sugar: 5.91 g
Potassium: 660 mg
Carbohydrate: 30.19 g
Magnesium: 292 mg
Phosphorous: 593 mg
2. Walnut
Walnuts are abundant in the vitamins E and B which are powerful antioxidants. Antioxidants, as you may know, battle free radicals by neutralizing free-roaming electrons and increases overall skin quality.
Fewer free radicals keep your skin's resilience and texture from deteriorating, resulting in fewer lines, sags, and wrinkles. You can even use walnut oil to get extra benefits as it works as a memory booster along with antioxidants.
Walnuts may have a somewhat bitter taste, but the omega-3 fatty acids in them are believed to have anti-inflammatory qualities. A handful of these nuts can help to enhance vitamin B levels, which are important for skin health by preventing age-related fine lines and wrinkles.
You'll get 654 calories from every 100 grams of walnuts. Eating 10 walnuts on a daily basis is enough for a healthy diet.
In every 100 grams of walnut, you'll get:
Protein: 15.23 g
Carbohydrate: 13.71 g
Fat: 65.21 g
Potassium: 441 mg
Sugar: 2.61 g
Fiber: 6.7 g
Magnesium: 158 mg
Calcium: 98 mg
Iron: 2.91 mg
Phosphorous: 346 mg
3. Almond
Almonds are high in vitamin E that protects cells from free radical damage caused by pollution. Around 20-30 almonds deliver 50% of your daily vitamin E requirements.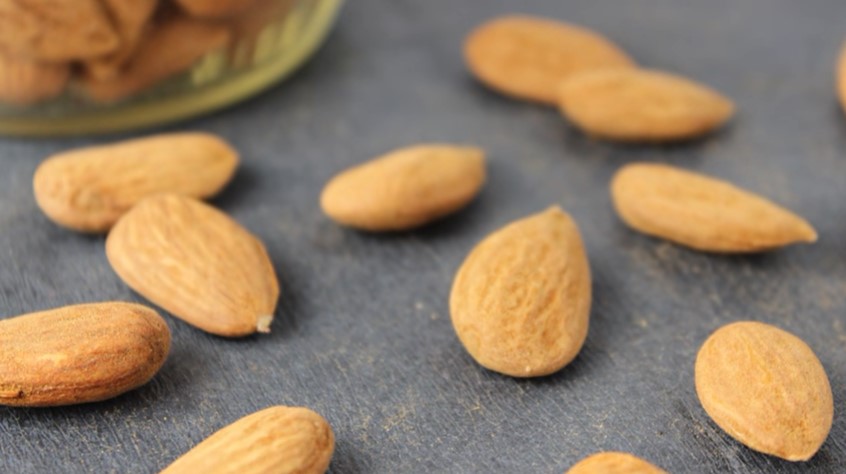 Almonds are used in practically every dish, from savory to sweet, because they are high in vital protein, fatty acids, and fiber. Almonds also contain vitamin E, which keeps blood vessels dilated, keeping the skin nourished and protecting it from conditions such as dark spots, eczema, and acne.
Copper is abundant in almonds which plays a function in hair and skin pigmentation. Linoleic acid, an important fatty acid, protects the skin from drying out. It can be found in 3.5 grams per ounce of almonds. Also, almond oil is extremely useful for treating hair fall and broken hair.
Every 100 grams of almond contains 579 calories. Also, by eating 100 grams of almond every day, you'll get:
Fiber: 12.50 g
Fat: 49.93 g
Sugar: 4.35 g
Carbohydrate: 21.55 g
Iron: 3.71 mg
Calcium: 269 mg
Protein: 21.15 g
Magnesium: 270 mg
Phosphorous: 481 mg
Vitamin E: 25.63 mg
Potassium: 733 mg
4. Pistachio
Pistachios are high in Vitamin E, a fat-soluble antioxidant that aids in the health and rejuvenation of skin cells. Not only that, it also helps by shielding the skin from the sun's damaging rays.
Pistachios are high in heart-healthy fats that help to maintain decent cholesterol levels. Their antioxidants assist to prevent acne by regulating blood sugar levels, which circulate androgen.
Pistachios hydrate and nourish the skin with its high fatty acid concentration. The vitamin E also helps to prevent dryness.
This functions as an anti-ageing component, assisting the skin in appearing naturally rejuvenated and younger. Massaging with pistachio oil is also very beneficial for health.
You'll find 562 calories in every 100 grams of pistachios. You should eat around 30 pistachios everyday for a healthy skin.
Also, by eating 100 grams of pistachios, you'll get:
Fat: 45.32 g
Fiber: 10.60 g
Protein: 20.16 g
Sugar: 7.66 g
Iron: 3.92 mg
Phosphorous: 490 mg
Carbohydrate: 27.17 g
Calcium: 105 mg
Magnesium: 121 mg
Conclusion
And that's it! We're done with the detailed guide on 4 nuts that are must for healthy and glowing skin. All these nuts can be served as delicious snacks on a regular basis.
Make sure to choose the amount wisely as not all of them contain the same calories. Decide and eat based on your goals and get a healthy and glowing skin in no time!