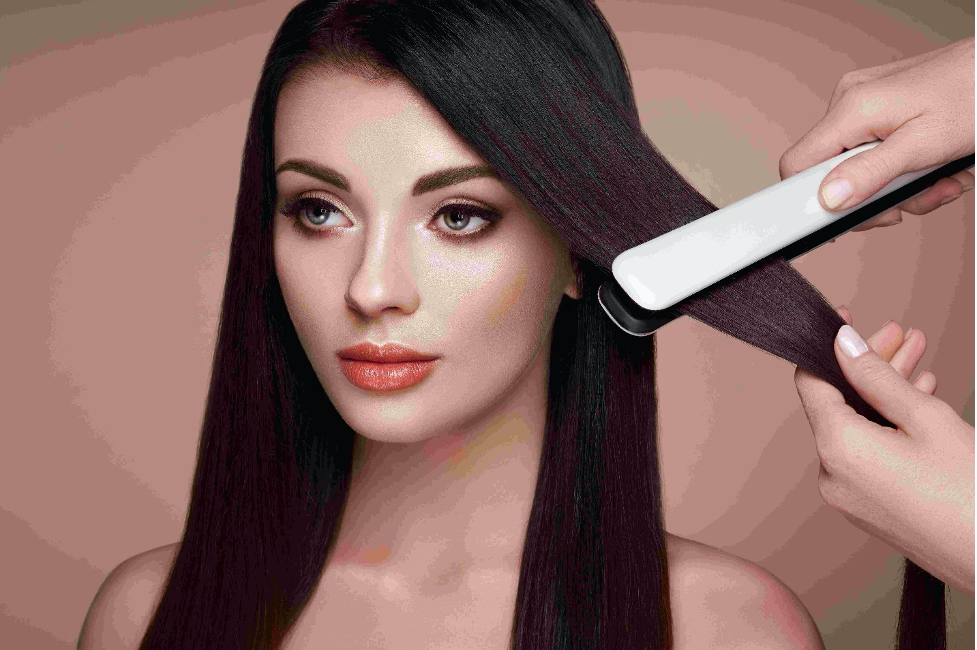 Maintaining relaxed hair with good health is tricky and possible following some simple steps. If you have tried a lot but are tired of not getting better results, this page will show you some best tips for maintaining healthy relaxed hair.
All hair types have to be pampered; this hair requires more special treatment because of its processed natural. Based on the requirements, you can follow the tips and enjoy healthy hair.
Scroll and try to get all tips appropriately!
Tips for maintaining healthy relaxed hair
1.  Find Out Trusted Stylist
Typically, you need to spend much money on maintaining your relaxed hair. It will be worth it if you can invest in a reliable stylist for touch-ups or coloring because they are licensed. Now a day most women are walking around with damaged hair which takes a treat at home.
Find a professional and trusted stylist is not easy. But you should try several salons or get referrals from a closer one. Then move to the next step according to the experts for healthy relaxed hair.
2.  Get The Best Treatments
With the deep condition, you have to get the best treatments to maintain relaxed hair. What? Below we show you two ideal types of treatment.
Protein treatment: If your hair is damaged a lot or becomes weaker, you should think of the best relaxer treatment. And in this case, protein treatment will be a great way to make your damaged hair strengthen. Regular protein treatment can help you to maintain your relaxed hair.
Hot oil treatment: Another treatment is hot oil treatment that is very simple to do at home. Here knowing the perfect way to apply hot oil is very important. For this treatment, you can choose olive oil, castor oil, jojoba oil, besides coconut oil.
3.  Wrapping Your Hair
So what your hair s relaxed or heat styled, wrapping hair is more advantageous for both hairs. Highly textured hair will be back simply by this way itself. Proper hair wrapping helps preserve your hairstyle and works to seal the hair's moisturizer for a long time.
Before wrapping the hair, don't forget to apply the best foam wrap lotion. It helps your hair to keep and lock the smoothest style. Those foam lotions provide better hold your hairstyles and well to lock, moisturize, and make soft and shiny.
4.  Regular washing & condition
It is most important to shampoo and then deep condition regularly to maintaining your relaxed hair. It not only keep your hair clean but also locks the moisturizer, which is essential for keeping your hair in good shape. But here, you have to pick a high-quality conditioner for proper moisturizer level.
How many times do you need to shampoo or condition? Many people apply shampoo two or three times a week, where some neglect to maintain shampoo with condition regularly. If you want to maintain your relaxed hair, you should make a schedule for shampooing and conditioning. Does this task depend on your hair's need?
For selecting a shampoo, you must pick sulfate-free shampoo, which is also available in the current market. Don't skip condition after every shampoo, which needs to keep moisturize and safe from damage. This way is very helpful for relaxed manageable hair.
5.  Moisturize regularly
Deep condition after shampoo though good for moisturizing, for extra moisturizing your hair, you need to apply some other items to give proper moisturizer. Here we refer to use hair serum, coconut oil, natural any other oils for a sealant. You also can choose hair cream or liquid moisturizer. Without using those products, you should pay attention to which way or how you can lock your hair moisture.
6.   Proper Care Your Hair
Besides applying hair products, some maintaining ways and care will keep you healthy and shiny. Below has some shown some ways:
Avoid stretched hairstyles: Keep away from tight hairstyles because it'll give a migraine and unexpected stress to the hair with the scalp. A tight hairstyle will be responsible for damage, breakage, and weak hair.
Keep patience with hair: If you don't behave gently with your hair, it will damage quickly and become rough very soon. Pulling, ripping, or using several tools improperly to get a faster result is not a good idea. So, choose such a hairstyle that is relaxable and keeps free your hair and scalp.
Use soft brush: Don't brush your hair using a hard brush. Why? It will damage your hair more for a long time and doesn't look slick and shiny around the head. Therefore a soft brush is gentle enough for hair.
Use a wide-tooth comb: A narrow tooth comb will snag the hair and pull. But a wide-tooth comb can separate your hair gently. Use a wide comb instead of a narrow one to remove tangles.
Combing from scalps to bottom: This trick will save your hair a lot. If you comb the hair improperly way, it will make a lot of tangles or knots.
Low-heat style: Heat tools for flat iron or curling iron are good for occasional use but not regularly. So, don't make a habit of using heat tools for styling your hair. You also follow some different ways heat-free styling, for example:
Wet set
Wrapping
Flexi-rods
Buns
Updos
or Braids
Save hair at night: Some hair damage at night while sleeping. When you choose a cotton pillowcase to sleep, there has more chance to damage your hair by moving or rubbing. If you want to remain safe from those risks, you can do the following things.
Use a satin and silk pillowcase.
Cover your hair with a silk bonnet, scarf, or silk cap.
7. Physical and mental health
For healthy and relaxed hair, maintaining physical and mental health is also the most significant way. So, you need to take physical exercise and manage a proper diet.
As a very simple exercise, walking is good for better blood circulation into your whole body, even hair. Blood provides necessary nutrients with oxygen to give important organs. Eat healthy more fruits and vegetables.
Water is essential, which provides oxygen through not only your body but also your hair. Finally, you should be free from any type of stress, which is the key to a lot of diseases, even hair damage. Hair fall or hair damage is the reflection of what happened inside you.
So, don't give more chance your stress. Stay healthy from inside to outside forever.
Take Away – Healthy Relaxed Hair
Chemical processes will increase the rate of hair fall or hair damage. So the right precautions before applying chemical added products and the maintaining tips will help give better results. That's why; you need to follow the right way with the correct maintaining routine.  We hope this article will be very helpful. And really it will be useful, and you can share it with your friends.