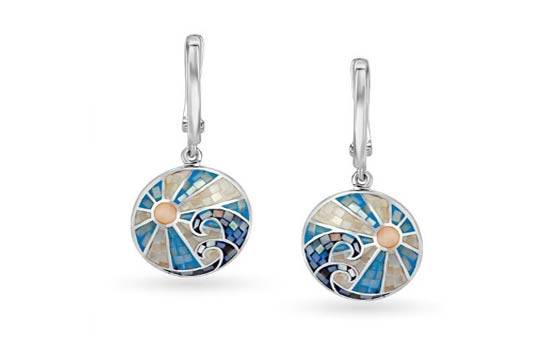 Wearing silver earrings as accessories for any event is an age-old practice, but has managed to stand the test of time. This type of Jewelry is very versatile and can be worn with any type of fashion or occasion. Before you put on a pair, here are a few tips to guide you in choosing what type to wear.
Dangling, Hoop or Studs
There are three main types of silver earrings to choose from: the stud, hoop, and dangling earrings.
Stud earrings are those that you can attach to the earlobes with a small backing that helps secure it in place. Studs are the simplest styles of earrings. Just like the metal silver, stud earrings never go out of style.
Women who wear their hair down usually prefer stud earrings because they don't get entangled with the hair. Silver stud earrings look simple and classy and would go with every type of outfit. Silver stud earrings can be worn when you are just out shopping, with your office attire or when going to a formal event.
Hoop earrings are loop-shaped silver earrings that go through the earlobes and hook in the back. They come in different sizes and shapes like stars or hearts. Hoop earrings made of silver are also simple and classic. Some hoop earrings are embedded with different kinds of gemstones like diamonds or with little accents like dangling charms. They are quite attractive and also easy to pair with any outfit.
Dangling earrings or drop earrings are gorgeous earrings that dangle off the ear. This type of earrings normally hangs off a lever back or a fishhook. Dangling earrings that come in different designs and varied lengths are called chandelier earrings.
Dangling earrings are best worn when you wear your hair up to showcase the intricacies of its designs. Silver dangling earrings are elegant to look at and can be worn in formal occasions like weddings or concerts. Dangling earrings can also have different gemstones dropping down.
Silver Earrings with Stones
When you are attending a formal event, you can do away with plain silver earrings and choose the ones embedded with gemstones.  Make sure to match the colour of the gemstone with your outfit to look classier. For a red ensemble, you can wear silver earrings with ruby stones to match. Diamonds on silver earrings can go with any look or outfit.
Silver Earrings to Match your Skin Tone
Specific types of metals used for Jewelry match with different types of skin tones.  The earthy tone colour of Jewelry like silver, white, green, blue, bright yellow, and turquoise go well with warm skin tones. Silver earrings can enhance your tanned skin giving you a youthful glow.
Silver Earrings with other Accessories
There are no strict written rules on how to wear your accessories. You can pair your silver earrings with silver necklaces, bracelets, or rings. Get to decide if you wear them all together. mix and match silver jewelry with other types like platinum or gold and see its effect. You can get away with your mix and match accessories as long as you wear them with panache.
Jewelry is worn to accentuate your appearance. There are no hard rules on how to wear them. Mix and match your silver earrings according to your taste and wear them with a dash of confidence.