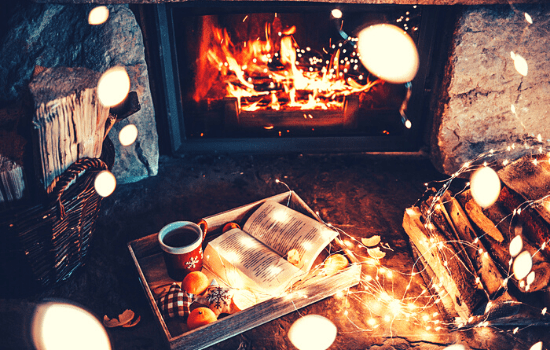 Interested in revamping the aesthetics of your home? Rest assured, we have got you covered. Today, we're going to be looking at a variety of reputable products that are sure to make your home stand out and be the envy of others.
Utilizing Wood Materials
Whether your bedroom is small or large, inputting wood on your walls is a good way to make your home feel more warm. When true wood is not possible, there are wallpapers that can mimic the look and feel of conventional wood work.
Choosing wood furnishings and accents can also help create that feeling of coziness in spaces where you aren't able to add paneling or wallpaper.
Enhance your Ambience with Lighting
A cozy bedroom needs light, but not any type of light will suffice. There is nothing worse than a harsh ceiling light that casts down on you while you're in bed. Turn off the overhead fixture after dark and utilize low lighting settings.
The key to an intimate mood is implementing many methods of lighting, which includes soft bedside lamps and mounted ceiling lights that give off that extra oomph.
With that being said, the best light source of light will always be natural light.
Choose Quality Bedding Options
When looking for something that's very cozy, input a four poster bed in your room. If you're not enticed by curtains or frills, you can opt for a streamlined version with simple posts with no fabrics or cross beams.
You can find four-posters enclosed and use it in a larger bedroom, and at the same time make a smaller bedroom with scale and drama.
Natural Materials and Soothing Colors
As far as textures and colors are concerned, think soothing and calm instead of brighter, vibrant colors. Bold graphic patterns don't sit well in bedrooms. You should focus on smaller intimate patterns that work together and introduce rich textures.
Quilted throw pillows, faux-fur throws, and comfy knits in neutral tones are all good places to start. Implement these softer elements and it will make for a welcoming feel.
Area Rugs
When you first get out of bed, the floor beneath you should be soft and comfortable to walk on. It doesn't mean that a carpet will be the deciding factor in making your living space more cozy. However, a plush area rug provides warmth and adds layers of texture. You can try using small sheepskin or shag rugs on the ends of your bed or use various floor coverings to add softness to the area.
Cover Up The Windows
Bare, cold windows are obstacles that can keep you from getting that warm, coziness in your bedroom. When going for cozy, don't neglect getting window treatments. What else should you keep in mind if you have large windows? It's not wise to include curtains. When they are drawn, they shouldn't dominate or take away from the aesthetics in the rest of the room.
Little to No Technology
You can't truly unplug if you are glued to your phone, ipad, or laptop. Try to make your bedroom a low- or no-tech zone, you can add books and natural elements such as fresh flowers or plants instead of a phone dock or tv. Dedicate this space for relaxation purposes. Your gadgets will still be there, at the end of the day.
Go For That Uncanny Bed Frame
While we're chatting about furniture that does all of the talking, don't be hesitant in getting a "unique" bed frame. Shouldn't one of your goals be to stay in bed anyways? You might as well make the most of it.
Using a Plethora of Blankets
There is no such thing as too many blankets…layer throws on your bed to make for an eye-popping atmosphere that is sure to help you enjoy every moment of your slumber. The bed itself should be your personal sanctuary, so adorn it with linens, lots of pillows, and a luxe duvet or an elegant blanket.
Make Color Pop With Florals
Keep this in mind, you don't want to overdo it with patterns and over the top accents. Flowers are the perfect way to bring some rejuvenation into a neutral space and it adds a touch of color that is subtle, but profound.
Embracing The Wallpaper
Having fun wallpaper will provide excitement in your dull spaces. Keep the rest of your spot neutral and introduce wood accents and wicker to dilute the intensity of the decorative noise.
Use Leather Accents
Add more warmth to your room by using leather accents. Choose a leather bed frame for an aesthetic that's cushiony. You can even match the side chairs with the frame.
Using Knits
Knit blankets are at the top of the charts when it comes to items that are inviting. Since, that's hard to do, go ahead and add knit throws and pillows to your stockpile, and even use a knit duvet for maximum comfort.
Forgo The Bed Frame
Save money and keep your room feeling cozy as ever by forgoing the bed frame together and put your mattress on the floor. Fill the space with various textures in order to get the bedroom that you deserve.
Create a Nook
Remember, you don't need to be young to have hidden nooks in your home. You can create a bed nook that will do wonders in keeping you cozy for days to come.
A White Noise Sound Machine that Can Help You Sleep
There are two kinds of people in this world: those that can fall asleep within seconds and then there is the general population who has a harder time falling asleep.
If you're in the latter, you should consider using a white noise machine to help you sleep. It has two speed settings so you can decide how much sound comes out.
Over 10.6K Amazon customers have given white noise machines a 5 star review. This will do wonders in making you feel nice and cozy, during the cold winter months. Don't wait, take advantage of it.
Author Bio: Boca Terry is a family-owned business that is dedicated to providing their customers with the highest quality bathrobes and spa products, as well as creating custom products that simply make you feel good. Whether it's enhancing your rejuvenating vacation experience at a luxury resort or developing a full line of custom embroidered bathrobes and slippers for a retail store, we are committed to making the best products possible.