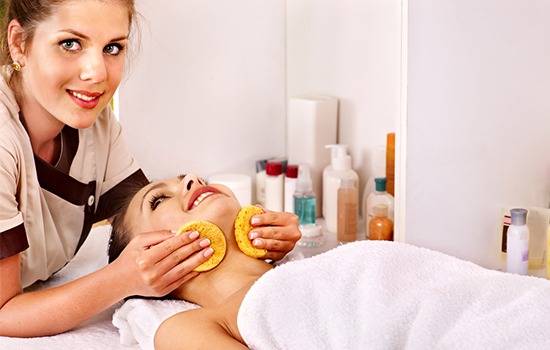 Do you often see yourself experimenting with makeup?  There might not be a lot of cosmetics in your vanity, or you might not be knowing all the technical words, but you sure know how to make the best out of limited supplies. You know precisely when and how to use bright, soft, dark, nude, shimmery shades, and you know exactly how to apply them to bring out the best results.
Also, you are bombarded with requests to do your friends' makeup on special events and occasions. You have the zest to learn more about beauty and makeup trends— all on your own. You are always keen on learning more beauty treatments.  If ever you have come across a fashion show or a stag performance and thought to yourself that you could do better, then being a beauty therapist is something that you should consider as your career choice.
This Industry demands innovative, devoted, and driven people who bring something new to their position in the glamour profession.  You can match up to the global beauty industry standards by enrolling yourself in online makeup courses while working. If you are still juggling between career options and doubtful about a career in beauty therapy, then the following reasons would assure you to choose beauty therapy as your profession.
Always on Demand
It is projected that the beauty salon and also in-store beauty therapy industry would improve by 8.1% by 2022 and also that the demand from the male customers and would rise in the next five years. Self-employment is common in this market, with 58 percent of people in hair styling and hair care and 53 percent in beauty. The beauty therapy industry is a USD 128.59 Billion market (as of 2017). It is predicted that it would cross USD 190.81 Billion by 2024.
This implies that as long as you are good at your work, you will never get affected by a significant global crisis. You have the security of getting paid even during tough times like recession.
Meeting people from all walks of life.
Beauty practitioners interact with men and women from various parts of the world. From young girls getting ready for their first dance party to women who occasionally treat themselves to a calming massage, you'll meet a variety of select individuals who can help ensure that each day feels different.
When you are classified in your work field, you will start to grow a significant follow-up of frequent clients.  The clients would support you and accompany you wherever you go to work. You're going to get to know everyone better. Also, you would be more aware of their activities than your closest buddies.
Your daily customers are going to be the biggest tippers, and you're going to feel like a valuable part of their lives. Also, you'll have a lot of customers that would keep your time enjoyable and fascinating. If you're genuinely friendly (which you would eventually become), you're going to love meeting each customer and begin to relate with them a lot of times.
Get qualified easily
Just over half of the employees in the beauty and wellness industry have a certificate or an Advanced Diploma in their hands. When you have a certification, there is quite a range of opportunities available in the market and obtaining a qualification doesn't have to take that long!
There are diplomas and certificate courses that you could enroll yourself while working. Online courses provide you the same credentials and job opportunities as a regular candidate. You need not worry about taking out time from your busy schedule to improve your skills.
Lots of experimentation
Let's keep aside the basic norms of the beauty industry. This field requires skills and creativity. Your zest for enhancing the beauty of people is no ordinary skill. When it comes to beauty therapy, you can either take it as a daily job or an art. It will be for the best if you choose the latter.
You have the luxury of experimenting with your talent and knowledge to showcase your best results. If you are experienced enough, you have the liberty to transform people and make them happy.
Along with this, you have your insights to share. It is natural that you might be having your approaches to makeup and beauty. Some beauty tips, suggestions, and ideas would always be welcomed and appreciated by your clients.
You are your own boss
Several beauty therapy professionals choose to work in a salon, a lounge, or a health center. They love being a team-player. This helps in further training and tutorials specific to that firm.
They might like the idea of being hired or the working hours might be suiting them. Or it could be that they do not have space or facilities to provide their services as a self-employed beauty therapist. You may choose to start your chic beauty salon or spa. You could also offer your services to the customers in the comfort of your own home.
any one start and who won't have to worry about jobs or financial constraints, too unnecessarily. With high-quality training and beauty therapy programs, the treatments you provide would be on-demand. As a beauty therapist, you could start your makeup vlogs, which could end up with you having a separate fan-base.
Exciting schedule
You might have come across so many people who whine about their monotonous work hours. Some find their schedules boring, and others do not love their work. There seems to be a lot of people who do not appreciate their jobs. A career in beauty therapy would help you break the monotony.
Some days you would be engrossed in an exciting, inventive nail art session. This could follow up with you, advising a client on their skin upkeep or give someone a relaxing massage. Other days you could be occupied with a de-tan cleanup and waxing appointment with another customer. Sometimes, all the appointments on the same day.  The more expertise you provide, the more flexibility you will have to manage your day and career.