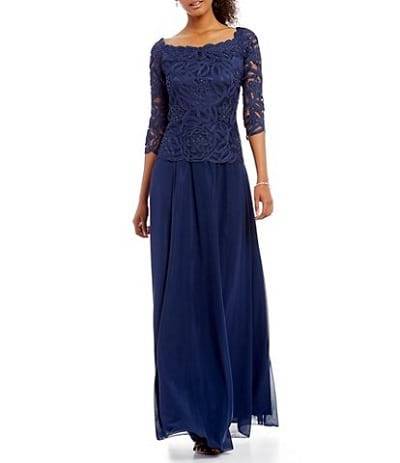 Your daughter's wedding brings you so many responsibilities! Yet, you can't simply forget about dressing to the nines (to perfection). Brides and mothers typically choose something after visiting more than a few retailers/bridal salons. If you're anyone like them, you might already have interests in Dillards mother of the bride dresses, and why not?
Being in the business for over eight decades, Dillards has a presence in 29 US states having 292 stores full of contemporary styles of wedding dresses from over 50 popular brands. So, the national chain has every reason to have some influence upon brides and their mothers when it comes to bridal outfits.
Why Is Dillards Still Popular for Bridal Dresses?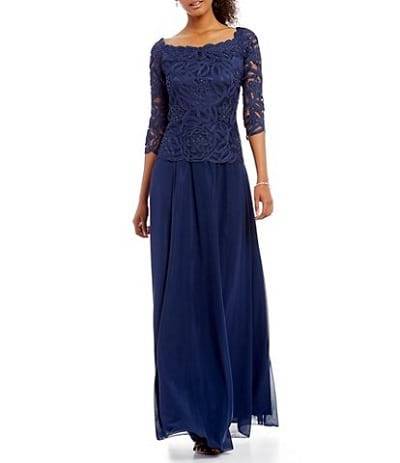 Apart from the affinity with trends, three factors work behind the longstanding fame that the company still enjoys even amidst the fierce competition.
More than one-third of bride dresses come from national bridal chains. It means great business for a bridal dress provider like Dillards that runs its operations through hundreds of conveniently located stores.
Around half of the wedding dresses are kept as an heirloom (inheritance for the future generations). Preservation of such a trend demands thoughtful designs that stand the test of time and match a wide range of bridal settings. They draw a clear line by crafting each mother of the bride dress with timeless buoyancy and palette.
At Dillards, you'll find dresses at around $40, and for comelier and richer details, you may want to spend $200-$300. Top of the lines cost around only $700. Now, you can identify the point of affordability.
So, the message is loud and clear. Their pricing tags can hardly be ignored where a dress for the mother of the bride costs anywhere between $200 and $1,500 depending on the materials and craftsmanship.
Mother of the Bride Dress (MOB) Etiquette and How Dillards Responds
The color of the dress matters and tradition says you can't choose champagne, ivory, and white for these colors are the usual picks for the bride's dresses. Black represents mourning, while red seems too flashy for the mother.
Deviations from these norms aren't prohibited either. Moms don't have to be deprived of the elegance embedded in these colors, one belief that encourages Dillards to go big on colors.
Some of the no-brainer suggestions include blue, purple, floral, tan, and grey. Something slightly metallic like gold or silver shouldn't hurt.If you intend to extend your palette with a few vibrant options, there're pink, orange, and yellow.
But then again, you won't want to miss the five not-so-good colors. Don't worry as you'll have access to the chic and trendy iterations of these colors.
The entirety of the bridal merchandise can't be explained in this article, but a precise description of the dresses in terms of their colors, sizes, styles, and categories will help you decide well.
Dillards Mother of the Bride Dresses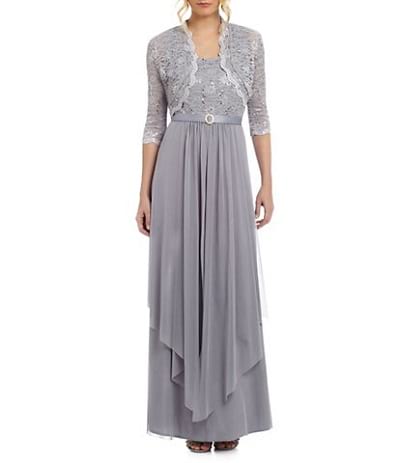 Start with the huge collections! It'll take you days to see all the choices for yourself. A little bit of homework should be useful. Visit the Dillards website and check out following filters to narrow down your choices.
Category
There're long and short dresses. You can choose the parts of your outfit separately, and a long list of pant sets is available. Similarly, variable lengths like long, knee length, above and below knee dresses.
Do you have anything special about the sleeves? Well, choose from the long or short sleeves, cap or one sleeve, ¾ sleeves or even sleeveless styles.
Size
A few minutes of glance will take your worries about the right size away. Don't you fit in any of these options L, XL, L/XL, XXL, M, S, S/M, XS, Plus Size, 2XL, etc.?
Style
Understanding that weddings are organized in different times and surroundings, Dillards has brought about a broad selection of styles such as Sheath, A-Line, Ballgown, Jacket Dress, Popover, Mermaid, Blouson, Fit and Flare, Shift, Empire Waist, peplum, Wrap, Caftan, Pencil, 2-Piece, Shirt Dress, Drop Waist, etc.
Neckline
You can't go wrong with the large variety of necklines which range from the classic Boat and Crew to the bolder V-Neck, Off-the-shoulder, and Strapless styles. For a formal fashion, there's Scoop Neck. Nobody would underestimate the contemporary appeal of the Halter design. Other necklines include Sweetheart, Cowl, and Mock.
In addition to the typical MOB dresses, specialized selections are also remarkable.
Dillards Mother of the Bride Dresses Plus Size
These dresses fall into the category of special sizes which are divided into two distinctive kinds such as plus size and petite figures.
The most popular of plus size dresses are some beaded and embroidered gowns, jacket dresses, chiffon, and ball gowns. They cost around $200-$400. The newest items include V-Neck gowns, metallic cape sleeve gowns, off-the-shoulder velvet gowns, etc. The pricing range remains the same.
Petite MOB dresses are available at variable prices ranging from $100 to $500. Top choices include floral beaded gowns, top bodice gowns, embroidered short sleeve gowns, open-back dress, mermaid and sweetheart gowns, etc.
Dillards Mother of the Bride Short Dresses
When short dresses are concerned, you have to decide its length. Should it have you knee length or go below the knee? Some dresses come with a length above your knee. These items can be just as expensive as their longer versions or slightly more/less expensive.
Sheath dresses with full or ¾ sleeves are very popular. But, you can look for A-Line and midi dresses too. Some combinations like A-Line and midi, blouson sheath, and midi sheath can also be fine. For something of a standalone outfit, you can get a 2-piece jacket dress that comes embroidered, laced, or beaded.
Dillards Formal Dresses for Mother of the Bride
Choosing a formal dress for the mother can be tricky as you have the wedding style to consider. A dress suit or a formal dress should suffice for an evening function. For a daytime wedding, you can rely on navy or other variations of blue.
The formal collections may not seem quite appropriate for all mothers, but some jacket dresses, A-Line and blouson gowns aren't negligible at all. The long gowns, caplet gowns, jacquard jacket dresses may draw your attention. The cost of formal clothing items suitable for a wedding can be between $100 and $650.
Dresses with sequin lace or beaded bodice/side are on sale too, and the embellished, velvet or metallic gowns will help you catch up with the trend.
By now, you've understood all the options. One thing still matters–what exactly you should have in mind while making a choice. A few priorities like the opinion of the bride (your daughter), the wedding style, and your comfort. Don't sacrifice any of these in the process.
It's never unfair to flaunt specific part(s) of your body. So, don't hesitate to highlight the part that you think makes you special.Fortunately, the superb collection of Dillards mother of the bride dresses includes at least a hundred items that inspire women to go in this particular style.
Still confused? Our heads are never out of ideas. So, feel free to ask for suggestions or write to enlighten us with your amazing experience. Happy shopping!
Read More :  some unique collection hot Yoga Pants For Womens.