Flower girls may not be a BIG part of a wedding party, but the beauty and purity carried with their presence enhances the gravity of the occasion. The cutest of all in that gathering is the group of small girls dressed in eye-catching attire scattering petals while walking next to the bridesmaids down the aisles.
All the eyes are bound to be on the bride, but that never clouds the grandeur of these little angels. What do you call them? That's our favorite flower girls. Can you really let them walk there with the bride in just about any outfit? You know you can't, and here's why you need to pay attention to flower girl dresses. Well, here's a 10-minute guide to make things more convenient!
#1 Appropriate Formality
Three distinctive factors are at play here. Picking the right color in view of the climate and wedding arrangements are crucial.
Color Scheme
Maybe, an ivory or white flower girl dress is what you've seen on half of the occasions you attended so far. Unsurprisingly, they're still dominant. But, a little deviation or some creative flair into the traditional choices as in the following list won't go unnoticed.
Ivory mingled with creamy or peachy, or yellowish hues diffuses more texture and conveys delectable warmness while flattering the beautiful creatures.
White with a special design or pattern to exhibit is never boring. When the preciosity of a certain element of the dress has to be highlighted, it's the color of choice.
Purple can be a little bold, but the nobility and power it stands for can be best attributed to the traits of little girls. For a more neutral tone and subtle variation of purple, you can choose mauve flower girl dresses.
Lavender hasn't lost its appeal as it'll only uphold the cleanliness and purity of the youngest souls.
Oh, the feminine choice is here! Pink allows the little ones to make a classy statement.
Having a brave appearance isn't forbidden for a baby girl. If the surroundings permit, red can be a great attention grabber.
Don't deprive a little girl if she wants to stand out among the crowd. Give her all the metallic accents (gold and silver) she loves.
When orange and pink make a confusion going for coral blush is the wise choice. Since a marriage sets expectations of fertility and prosperity, there's nothing wrong to let a girl be the harbinger of it.
Champagne may not come to your mind as a winner, but the warmth and loveliness it carries aren't deniable.
A pop of citrus yellow or bright colors should be as good as any befitting palette.
You may go as far as navy blue, teal, gray, or even black. No matter which color scheme you prefer; just make sure it's appropriate for the formality and magnificence the girls are about to carry forward on the big day.
Season and Surroundings
Just like the color of a dress, the season when a ceremony is being held is important. Here's a brief note on that for you to remember.
Lace ball gowns having tea length, a color sash, and color variations like ivory, grass green, candy apple, etc. do pretty nicely throughout the year.
A chiffon gown with short sleeve is a fantastic choice for a casual spring wedding, often arranged in backyards.
If an autumn or spring ceremony is your choice, give the girls some organza gowns with puff sleeves and tea length paired with some kind of waist attachment or a sash. For a more delicate fashion, you may consider embroidered items.
Winter is the time that calls for classic choices. Formal white dresses with deep green or navy sash, beading, sequins and puffed/long sleeves should be practically adorable.
A white dress is never old but, if a pop of color and vibrant texture is what enchants you, choose plaid flower girl dresses for fall wedding.
Tank bodice dresses are known for their youthful details that make them ideal for autumn. You won't go wrong with this even in winter.
For lace dresses, choose partial versions for winter and the fully laced ones for warmer seasons.
Wedding Themes
Everything discussed earlier is for this one important factor: the wedding theme! It's critical! You surely understand that any dress or pattern may not be ideal for a retro wedding. Similarly, what a bohemian wedding demand should be somehow different from what a backyard ceremony does. There're dozens of wedding themes to ideate, here're a few examples to help you.
For a vintage wedding, laced dresses with special patterns are nearly perfect. The dress may have lace on its top part, or it can entirely be made out of laces.
If your chosen theme is slightly unconventional or it's something you would call a 'chic wedding', dresses in gold/silver or bright accents and circular/geometric patterns are outstanding.
When a rustic theme prevails all upon a wedding, flower girls can be allowed to go comfortable with tutu dresses which feature tulle, a soft mesh fabric. Preferable colors can be aqua blue, beige, light champagne, or light pink. Floral patterns are also an adorable selection.
Flower girl dresses for beach wedding can be something unconventional. The open atmosphere with all its natural blessings inspires the adoption of what's beyond the established fashion. Pink or off-white, floral or laced, you name it!
#2 Trends to Follow
Dresses for flower girls are a part of wedding fashion that gives us several trends to observe. From traditional choices to modern-day wedding picks, trends are always available but in diversified form and details.
Dresses with Lengths
There're full-length gowns and tea length dresses, often decorated with the volume of poufy skirts. Favorite fabrics include net, organza, and tulle with satin finish.
Couture Dresses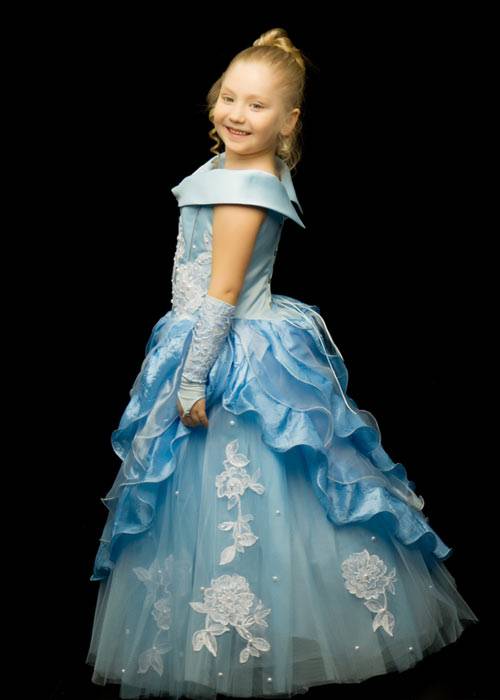 These choices can be expensive and not very common to find in a typical wedding ceremony. But those with a distinctive elegance to savor can go for them.
Different Skirts
There're tiered skirts, pick-up, and A-line skirts. Elaborately stylish and complemented with solid colored sashes, these dresses have found their way through ages.
Sleeved Dresses
Popular sleeve include short, cap, and long ones with a variety of embroideries or laceworks to match the vibe and tone of the ceremony.
Miscellaneous Features
Some weddings require everything to have a little bit of rustic touch while others inspire floral, pastel, and colorful patterns.
#3 Comforts and Fabric Quality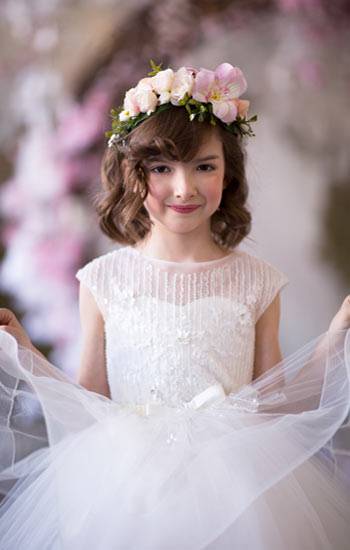 Nobody wants to see the little fairies feeling uncomfortable in their clothes or having pretty hard times cruising down the adorned isles. Flower girl dresses if not made out of comfortable fabric could be the reason the girls would look less than good. The following hints are useful in this regard.
Don't choose anything that feels hefty, itchy, or stiff.

Make sure the fabric isn't vulnerable to wrinkles. Also, the fabric has to resist accidental rips. Chiffon dresses and organza items can be wonderful with several layers.

Satin is perhaps the most favorite choices around because they provide comfort in most temperatures.

You may also choose tulle for a ballerina vibe. Cotton dresses aren't obsolete either.

Despite having the properties to offer great comfort, silk and velvet aren't usually recommended because they get ripped or torn down easily.
Since you don't want to see the girls in a condition any less than neat and tidy and cannot expect girls to take care of their dresses all the time, choose the fabric with caution.
#4 Length/Size
The very first thing is the 'fitting' which is not as strict for flower girlsas it is for the bridesmaid or the bride herself. No need to be obsessed with the fit as neither dress nor its hem line has to be perfect.
Would you buy a fancy flower girl dress and let it go after use on just one occasion? Maybe, you would like to get a size that is good for the girls to grow gradually into it.'One size up' is all you will find useful. Look at the table!
| | | | | | | |
| --- | --- | --- | --- | --- | --- | --- |
| Age (Years) | 1-2 | 3-4 | 5-6 | 6-7 | 7-8 | 8-10 |
| Dress Size | 4 | 6 | 8 | 10 | 12 | 14 |
| Length | 46 | 53 | 59 | 66 | 72 | 78 |
| Chest | 25 | 28 | 30 | 32 | 34 | 35 |
| Waist | 24 | 26.5 | 28 | 30 | 32 | 34 |
| Ankle Length | 27 | 31 | 33 | 35 | 37 | 38 |
Note that the sizes are expressed in centimeters. These measurements may not be very consistent everywhere. It's just a rough idea to get you started. Needless to say, the size of a dress never escapes anyone's attention. A rule of thumb is 'considering the length with the age in mind'. Well, the guide is below.
Flower Girl Dresses for 8 Year Olds
Now that you've chosen 8 year olds as flower girls, it's time to allow them to show a little bit personality by wearing chiffon or satin dresses with sashes and lots of attachments.
Flower Girl Dresses for 9 Year Olds
In practice, little difference is there between the dresses of two girls aged 8 and 9. Only the size can be a thing to consider.
Flower Girl Dresses for 10 Year Olds
Larger dress sizes and more embellishments can be used. The idea may be strange to those who believe changes don't occur much in 10-year old girls since they've passed 8, but it's to be remembered that the girls are about to say goodbye to their childish intuitions and embrace womanly traits soon enough.
Flower Girl Dresses for Older Girl
Did you ever care about junior bridesmaid? Girls after 10 are often regarded as the youngest of bridesmaids. So, their attire can be chosen to look much similar to that of bridesmaids.
#5 Preferences of the Bride and the Flower Girl
Anyone with the right influence can make the choice, but that makes it likely for the bride and the flower girl to feel like being hurt if they can't get along well with each other. So, the decision should involve the opinions of both the bride and the flower girl, no matter how younger or older they're.
#6 Budget, Brand, and Shop
Dresses for flower girls can be expensive or reasonably priced. Cheaper options aren't rare to find either. Since it's a social-gathering and more importantly a wedding, the dress shouldn't be any less splendid than what circumstances require. Expect to spend anywhere from $50 to $500. It can be way higher than this.
No obligations apply here! The brand for flower girl dresses can be either same as the one for the bride's or different. Famous brands may not always be the best ones for your special needs. So, you may choose one that meets you needs by offering a long lineup of dresses at variable budgets.
People often wonder where to buy flower girl dresses. Both local and online shops are full of them. These places seem more welcoming on some occasions as you may get attractive discounts and coupons on specific sales.
Certain norms make wedding a special occasion. Flower girl dresses that aren't chosen to be in affinity with the particular theme of the ceremony will only make the girls' appearance less appreciable. Hopefully, this guide can be a help to you along the way!