Google AdSense is the most powerful earning machine for bloggers. Without any doubt, AdSense is the first choice of any blogger. By the way, it is not easy to approve AdSense for your blog as a beginner. Even somehow AdSense approved your blog, it also have a risk to ban your account. 
Therefore, you have to think about Google AdSense Alternative. Otherwise, you can't sustain in your blogging profession. You will be happy to know that there are plenty of ways to earn money from your own blog. These are also able to generate very lucrative income as like as AdSense. 
Whatever, I would like to share some best possible AdSense alternatives with you. However, please note that all alternatives are not 100% similar to Google AdSense. AdSense is considered as a contextual and display ad networking program. But I will share some alternatives which wouldn't be contextual or display ad networking program. 
#1: Adsterra.com
Adsterra is one of the best AdSense alternatives among the list. It serves in total 10 billion+ ad impression in every month with 100% fill rate. They also provide high CPM and CPC. If you are straggling to approve AdSense, then you can try this on of the highest paying ad network 'Adsterra'. At present, they operate their business in total 190 countries with 20000 active ad campaigns.
The most interesting part of this ad network is its payment method. They offer different payment options for their publishers such as Wire transfer, Paxum, Paypal, ePayments, Skrill, Payza. Even they pay with Bitcoin which is very uncommon payment system and make them unique to other ad networks.
#2: Sovrn.com
If you are not interested to CPC ad network then Sovrn is the best suitable ad network for you. Because Sovrn is a CPM ad networks that means Sovrn pay you for only ad impressions. However the mail problem of Sovrn is lowest fill rate. It can't able to provide you 100% fill rate. By the way, you can use 'backfill' to get 100% fill rate. Suppose you also have AdSense you can give instruction to Sovrn, use your AdSense as backfill so that when their ads isn't available, fill your ads place by showing AdSense ads. 
Sovrn's payment threshold is $25 with net 30 basis. Payment method is Wire transfer, Local bank transfer, eCheck, Check, Global ACH, PayPal, and ACH. 
#3: Bidvertiser.com
Bidvertiser is a pay per click basis ad network. Therefore they pay their publisher for every click. Bidvertiser is an old and popular ad network which offers referral program. That means when you refer another publisher or advertiser you will get a certain percentage of commission. 
The payment method of Bidvertiser is not as vast as others. They offer only 2 ways to pay publisher, one is PayPal (payment threshold – $10) another is check (payment threshold is $100). They count 60 days to mature publisher's payment. That means they pay 30 days later the month ends. 
#4: Infolinks
Infolinks is another popular ads network. They have a unique ad option named 'intext ads' which is basically keywords based ads. When some keywords of your content matched with their ads, they place a link on these keywords. When your visitors are hovering mouse on these linked keywords, they display their ads to visitors and start counting CPA (cost per action) earning. 
Infolinks have varieties of payment options with different payments threshold. They pay publishers with Western Union (payment threshold – $100), ACH (for USA publishers with payment threshold $50). They even have PayPal and Payoneer for international publishers.
#5: Media.net
Media.net, powered by Yahoo and Bing, is probably the best AdSense alternative which offers almost similar kinds of contextual ads. If you have quality website which is completely ready for ads, it will be a matter of time to get approval from Media.net; that means approval process is much faster than AdSense. I personally consider it as number #2 advertise network comparing all facilities. They offer higher CPC for their publishers. They operate their business all over the world with assisting by more than 500 employees in their management team.  
They pay their publishers on net 30 bases with the $100 payment threshold. They make their payment via Payoneer and Wire transfer. In recent past, they had other payment option: PayPal. Unfortunately, PayPal is working at present for media.net. 
#6: Viglink
Suppose, you have a fashion blog where you write about different fashion related products and information. Or, you have a tech blog where you share different types of tech gadgets. Or, you have a product review blog. For you, viglink can generate more earning than other alternatives. They work with keywords and put an affiliate link on these keywords. When your visitors buy something with your affiliate link, you will get a certain amount of commission from every sell. 
The only payment option of viglink is PayPal with $10 payment threshold. They make payment for their publishers on a net 60 basis. You can try it as one of the best AdSense alternative if you have a product review blog. Hopefully you will enjoy it. 
#7: Propeller Ads
Prepeller Ads is one the best options for dating, movies, entertainment, games, adult, software and gambling niche. You will not get approval with dating or gambling website on AdSense. However, you can easily continue your earning with such niches. Prepeller which was started their operation in 2011, is one of the top advertising network and the quality alternative for AdSense. I love it because of its high CPM on 2nd and 3rd layer countries, such as India, Bangladesh, Singapore, Turkey, Thailand etc. Probably you are struggling to generate traffic with these types of visitors. However, we suggested using Propeller Ads network for generating more and more income for your niche. 
All payments of Prepeller are made for their publishers though Payoneer, Web Money, ePayment and PayPal with minimum $5 payment threshold.  They normally pay on a net 30 basis. However you can get payment weekly basis if you meet minimum threshold on every week. 

#8: RevContent
RevContent is very popular native ads network which adds revenue with AdSense. That means you can use RevContent and AdSense together in a website. Even if you are not AdSense account holder at any reason then obviously you should use it. They provide comparatively higher CPC (minimum 1-10 cents in per click) and quality ads with quick approval process. 
We see many of legend bloggers use RevContent, such as Forbes, PC World and many more. Though you have AdSense ads on your blog, you also can use RevContent with AdSense on your website. 
#9:Monumetric
Monumetric helps you monetize by fulfilling your ad listings with the highest CPM available offers. Basically, you have set up an ad list available on your website. Then Monumetric helps you make the most money for the way you get impressions.
Monumetric has a prolonged reputation for providing focus to publishers; with the help of tools, you can control which ad to appear on your site as well as the displaying area.
Let's say, if you don't want to get an ad from a specific company, Monumetric will allow you to do so. This way, you can effortlessly show ads as per your nominated advertisers.
If your site has 10,000 views/month, Monumetric will allow you to work with them.And you have to pay a one-time setup fee $99 if your page view is less than 80,000.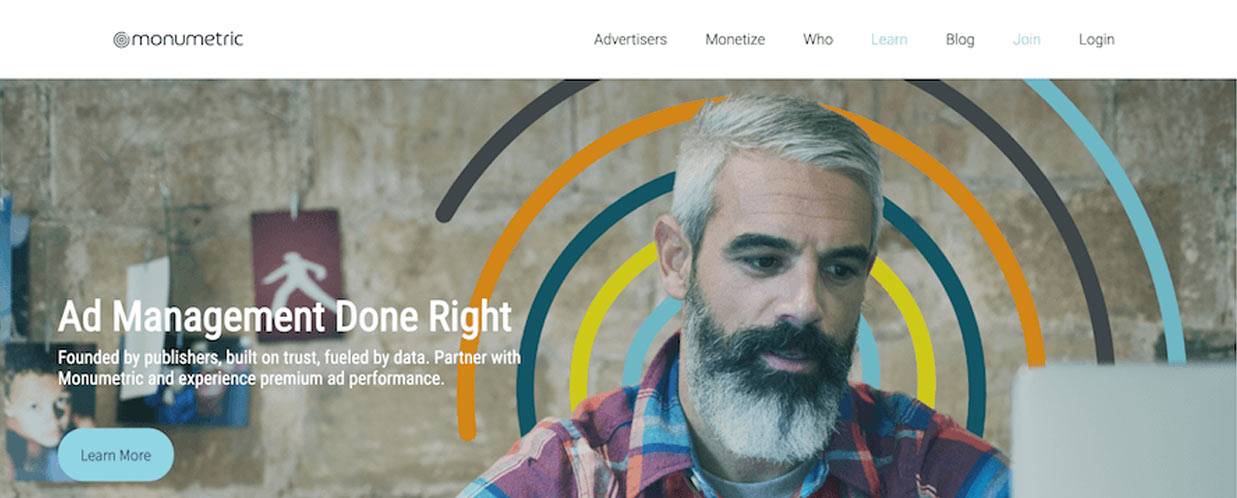 #10:BuySellAds
It is significantly essential to note that BuySellAds is entirely dissimilar to Adsence. This is not the case with Adsence for displaying relevant ads like yours. Instead, you can list your ads in the AdSense marketplace where advertisers can purchase it directly.
For instance, you can state, "I have this header ad spot that gets 40,000 impressions. I'll sell it for $400 per month". Through BuySellAds, an advertiser can purchase that inventory at your proposed price without any hassle. – it's all computerized.
If you love this idea – without any confusion, you should look at BuySellads.
Be noted, BuySellAds will only work with you if your site has more than 100,000 pageviews/month.
Conclusion
Blogging is a passion and financial support for your blogging accelerates your blogging career. However, if you know the alternative source of earning you can continue your blogging passion in any rude situation of your life. Though, Google AdSense is still unbeatable in the list. We say, don't depend only Google AdSense. After knowing all best AdSense alternatives, you now probably enrich your knowledge and can implement when it necessary.